Publishing house IDWW has announced that they'll be shipping a brand new G.I. Joe take to shops this fall. Yes, it's another alt-take on the property.
The legend continues
G.I. Joe, as it is, is still a legendary piece of Americana. In its current form, it was forged in the 1980s. It was then that Joe was faced with the forces of Cobra, an international terrorist army. More than just a military squad, the team itself got a revamp in the face of this new threat, becoming more like superheroes than soldiers.
It was an awesome re-envisioning that created a legion of new fans. It also built a lasting legacy, that has extended into even today. The property has seen more than a few reboots over the years however, with almost all of them ending in a return to the classic continuity.
It should be noted that it certainly seems as though IDW's G.I. Joe: A Real American Hero (with Larry Hama) will still be rolling on in the face of this new announcement. The company doesn't say anywhere that that book will face cancellation, so I assume it's safe.
What we are getting though, in addition, is a whole new story. No, it's not the first time this has been tried even by IDW, but they're taking another shot at it.
The new book will be titled simply G.I. Joe, and will see an alternate reality emerge. One where Cobra is in command.
Yo Joe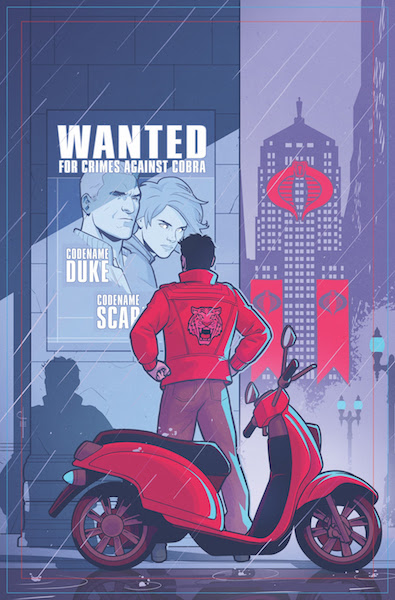 Loyal citizens of Cobra, take heed: our glorious Commander has warned that IDW Publishing, the outlawed propagandist organization, will launch a new campaign of disinformation in September, peddling a wave of new anarchist pamphlets simply entitled G.I. Joe!

Inspired by fugitives including Conrad S. Hauser (Code Name: DUKE) and Shana M. O'Hara (Code Name: SCARLETT), the insurrectionist duo of writer Paul Allor and artist Chris Evenhuis seek to poison the hearts and souls of our populace – brainwashing individuals into committing acts of espionage and sabotage.

Make no mistake: There will be dire consequences for the weak-minded fools who fall under G.I. Joe's sway and disobey the Cobra World Order!

IDW press release
Before you say anything, know that IDW is aiming this book squarely at classic Joe fans. It isn't meant to subvert the property, but instead seems prepped to just offer a fresh, albeit completely are, take.
Here's IDW's Paul Allor talking it up:
"This story is inspired both by modern warfare – where non-state actors fight vastly overpowered militaries to a perpetual standstill – and World War II, where Great Britain's SOE recruited civilians behind enemy lines."

"Old-school G.I. Joe fans will absolutely love it and find it true to everything G.I. Joe stands for, and new folks will be attracted to a deeply character-driven tale of hope and humanity, and about the power of resilience in an increasingly unraveling world."

Paul Allor
Interested? Look for G.I. Joe #1, complete with covers from Chris Evenhuis, Dustin Weaver, and Eleanora Carlini, on stands this September.