The folks at Toast have a brand new item on the menu. You've probably had many a mousepad over the years, but likely none like the they've cooked up.
Toasty
Toast is an interesting brand. They're decidedly niche, and also incredibly high quality. We've reviewed their products in the past, and have been impressed.
Basically, they make console and controller covers (among other things). What sets them apart from the sticker-makers out there though, is that their covers are wood. That might sound strange, but it's true, and the results of adding one to your console are impressive. A cover from Toast truly can make your Xbox look like a million bucks.
This item though, is not a cover. It's a mouse pad. So what separates this from the thousands of other mouse pads out there? Let's find out.
Ease of setup
Well, this is a mouse pad, so it's pretty easy to setup once you get it. You just kind of plop it onto your desk. Before that though, there are a number of things you can do to customize your pad.
First, there are two different sizes for what Toast is offering with their leather mousepad. The medium size is probably what most people would opt for, though the large is a tempting offer too, since it provides a nice big space to mouse across. In the end though, it's kind of up to the size of your desktop.
You an also customize your mouse pad with up to six lines of text. This is a completely custom option and does add onto the price. Likewise, you can have a custom design etched into the pad if you like.
This can be a logo, etc. There are also set designs made by Toast, but know that all of the above add to the price tag. If you're big into customization however, and just have to have your own symbol on your desktop, it's pretty neat to have the option.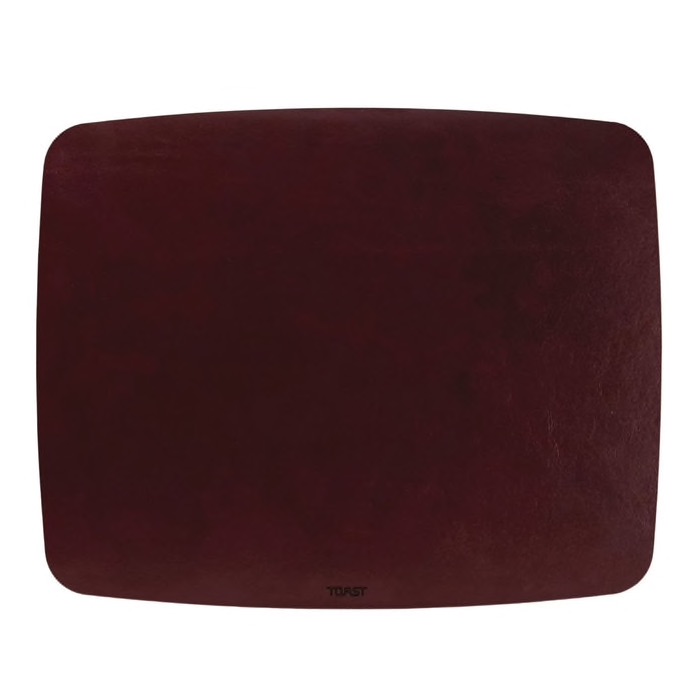 As for color options, there are a load. A total of ten different shades are possible. We got a the Syrah one that you see here. It's a nice rich, deep color.
Utility
As I mentioned above, you have two sizes to pick from. I got the smaller version, since I don't have a ton of space to work with, but it's not limited at all. The medium size is basically a "normal" mouse pad in terms of surface room.
So if you're using something like that now, then this is probably the way to go. The leather surface is nice and smooth, and the back is grippy, t5o hold the pad to your surface. That's not to say that there's a gel surface or anything, since the reverse side of the pad is simply raw in nature. But that's been enough in my finding to keep it where you want it.
I will say this though, the pad is relatively thin. With no foam backing, there's not a whole lot of difference in height between it and the desktop. That means that I have moused off of it once or twice, though that's not all that big of a deal by any measure. Well, for me anyway.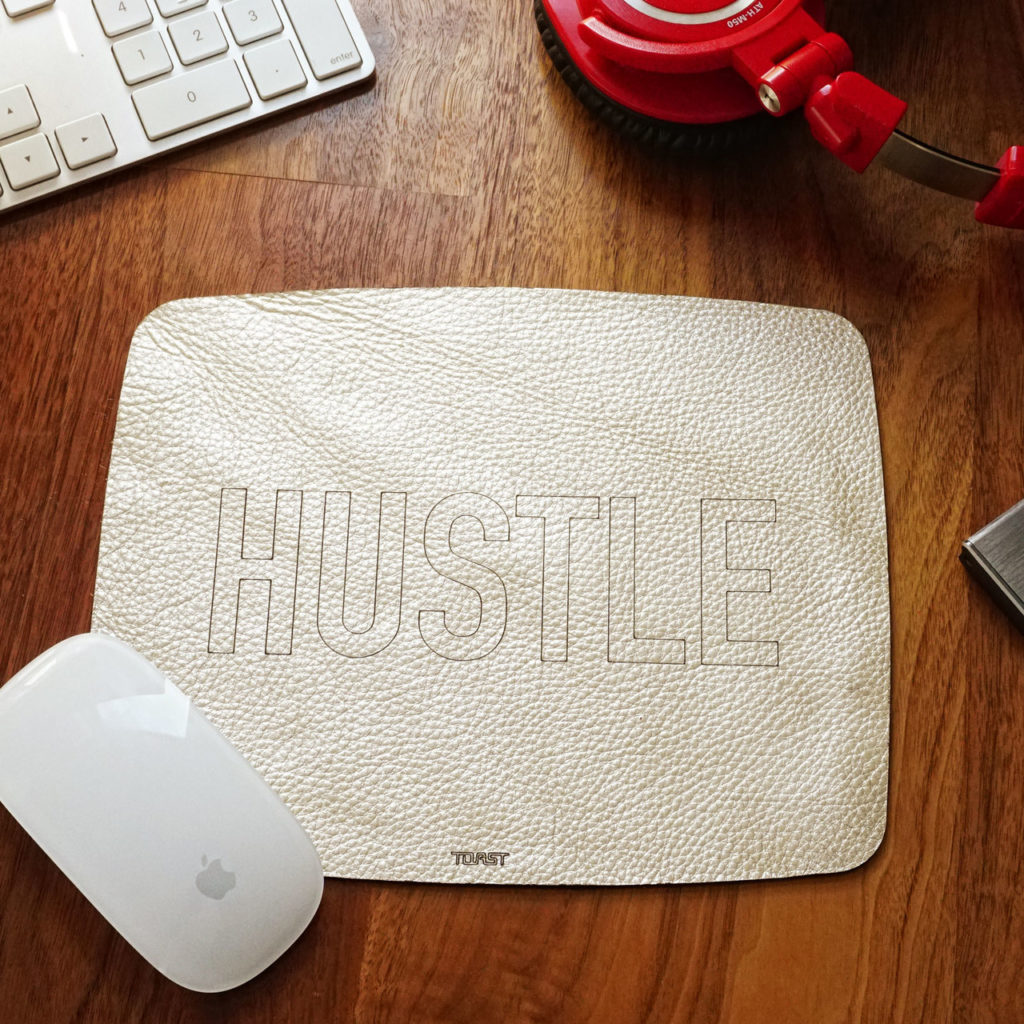 Proficiency
As mouse pads go, this one's as good as any really. The whole draw of Toast's mouse pad is that it's leather, and that means it's got a nice, premium look to it. It instantly makes your desktop look all sophisticated-, which is a plus in my book.
I used it with a pair of computers for this review, my work Mac and my gaming PC. On the PC side, I have found that my Alienware mouse moves effortlessly across its leather surface. It's a thing of beauty, and is extremely comfortable to use.
My Magic Mouse on the other hand, isn't as great. I think that has to do with the more pronounced border of the MM's underbelly, which tends to not glide as well as the Alienware. It's not bad, it's just not wonderful, and I've noticed that my old fabric pad does tend to feel a bit better.
Overall
More or less, whether or not the Toast leather mouse pad is for you seems to depend on the type of mouse you're using. Fortunately, it also seems like most mice should be just fine with it.
As long as you have something that doesn't have weird ridges on the bottom, you're good to go. And if you do have something like that, you're still fine really, it just won't be optimal.
In terms of looks though, you can't go wrong. Toast has another winner on its hands. The leather pad is excellent looking in every way. Mine has no frills, and I love it just for the color. Again too, you can outfit it almost as you please in terms of customization.
All in all, that's a combination that's tough to beat.
A sample was provided to BrutalGamer by Toast for review
Leather mouse pad
Release date: Available now
Maker: Toast
MSRP: Starts at $39.00 USD
Ease of use - 100%
Utility - 92%
Proficiency - 85%
If you're looking for a new mouse pad and want something with style galore, it's hard to do better than Toast's new leather lineup. They feature excellent colors, multiple customization options, and a pair of sizes.