When I reviewed the first volume of Brett Weiss' SNES Omnibus last year, I was very pleased with what I found. An exhaustive look at every game in the Super Nintendo library beginning with letters A-M, it is a classic video game fan's dream.
Now, Weiss is back with the second volume, covering the rest of the games in the Super Nintendo catalogue. The Super Street Fighters, Nobunga's Ambitions and more are here. The result is a meticulous collection and brief history lesson on the Super Nintendo's best (and finally all) games.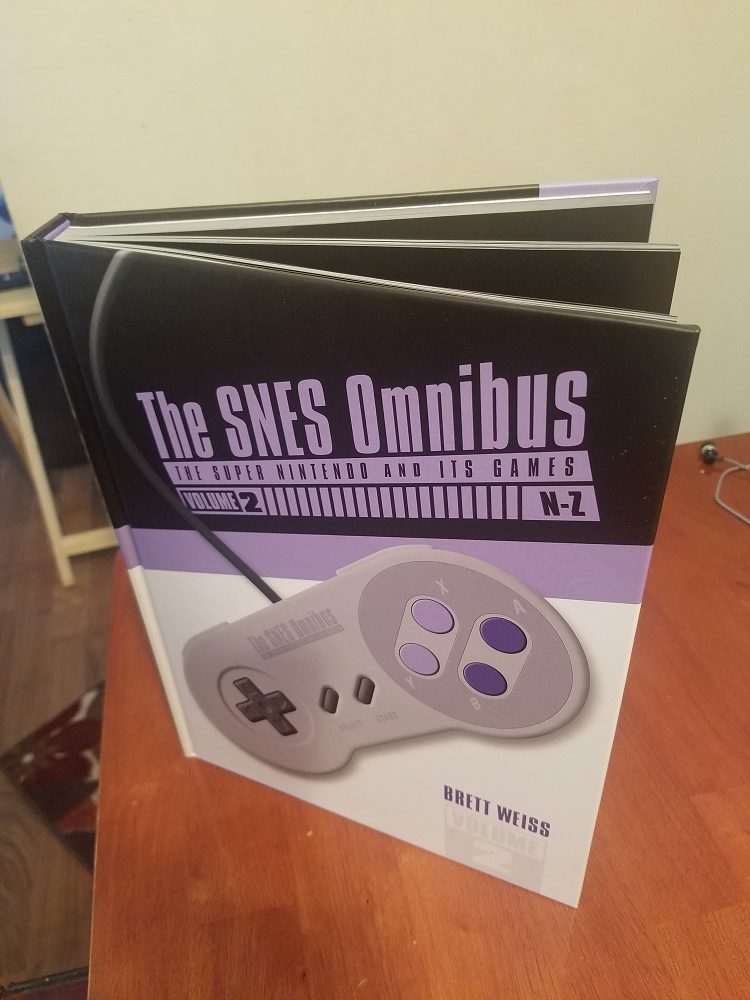 Construction
As soon as I picked the omnibus up for the fist time, it became obvious that this book is constructed just as well as the first volume.
The book's dust jacket is a nice addition. Even nicer, in my opinion, is the fact that the actual hardcover of the book retains the artwork from that jacket. There have been a number of times where dust jackets have hindered my ability to enjoy flipping through a book. I mean that whether it be for worry of tearing it when opening the book, or just causing wear.
Wear and tear is something I do not think owners of this book should worry too much about however. The covers are thick and the binding is strong. The countless times I paged through the book for this review left it in an identical condition to that which arrived at my door some weeks ago.
Content
Fans of the Super Nintendo will have an absolute ton to love about this book.
Each game receives a brief synopsis. These vary in length, depending on the notoriety of the game in question. In each case though, Weiss offers an explanation and brief summary. I might be a huge fan of this era and console, but there are still many games I never got a chance to experience. These summaries are excellent ways to learn about this marvelous library.
In addition, most games have clips from video game journalists from the time the games released. For most entries, it is really cool to see how these games were perceived in their time, when we know exactly how they would be treated by time.
Like in the previous volume, Weiss takes care to include "Insider Insights". Those are largely personal testimonials from people entrenched in video games to this day. These add a personal touch, and it is especially cool to read the ones pertaining to the games I loved as a kid. To see how they influenced others is really fun.
After the games are all accounted for, Weiss includes three essays on different topics. They cover the Super Game Boy, Super Metroid and finally the Super Scope 6. It is interesting to read through these thought provoking essays on the chosen topics. And I have to say, they make for a great diversion for guests waiting on their hosts.
At the end of the day, I am hard pressed to think of any other type of editorial content I would have liked Weiss to include.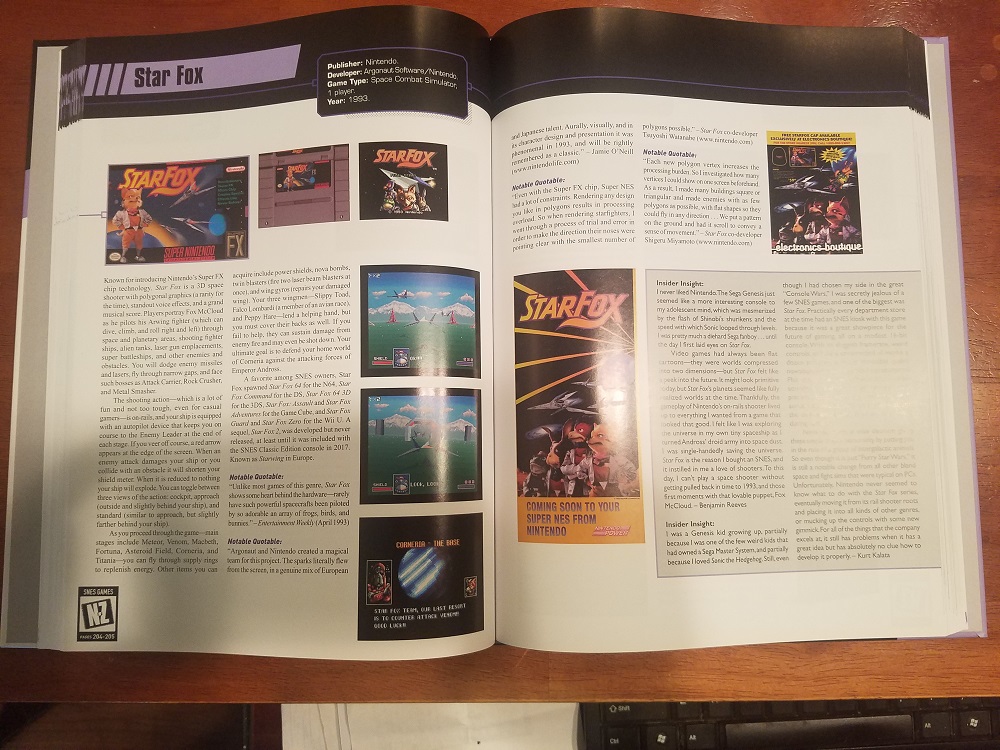 And everything else
Even more so than the first volume, I am having a tough time coming up with actual criticisms for the SNES Omnibus. Weiss collects facts, testimony and coverage from the entire second half of the console's library in a way that makes sense to the reader.
There are a few instances of lots of white space, but I have a tough time really dinging the book for that when it is so dense with information.
I do want to point out the excellent assortment of images used in the book. There are ads pulled from magazines, screenshots, pieces of box art, and more. They are all terrific additions and the selection really gives readers a chance to picture what the environment surrounding these games looked like when they released.
In conclusion
With the second volume of his SNES Omnibus, Brett Weiss delivers another keystone coffee table book for any fan of videogames, retro or modern. He delivers a thoroughness to enlighten even people who did not live through the console's heyday.
I am looking forward to putting this second volume in its rightful spot: right next to the first one, on my coffee table.
A copy of The SNES Omnibus Volume 2 N-Z Was Provided by the Publisher
The SNES Omnibus Volume 2 N – Z
Release Date: April, 2019
Format: Hardcover book, volume 2 of 2
Publisher: Schiffer Publishing
Written by: Brett Weiss
MSRP: $49.99
Construction - 95%
Content - 95%
Everything Else - 85%
Brett Weiss delivers another incredible effort cataloguing the entirety of the SNES library. From Super Mario World to Shien's Revenge, they are all here. Add insightful content and tough construction, and you have a true winner.