Remember that "Everyone is a Target" promo? Well now we know what that was for. Absolute Carnage is on the way.
Cletus Kasady is back
A while ago, we told you about a teaser image from Marvel Comics that sported the headline "Everyone is a Target". The image showed Marvel superheroes drowning in what certainly seemed to be the Carnage symbiote, and Venom above them.
Now we've got full clarification on Everyone is a Target… sort of. Today's press release holds some details for Absolute Carnage, the new event series from Venom writer Donny Cates. And apparently it's going to be pretty brutal.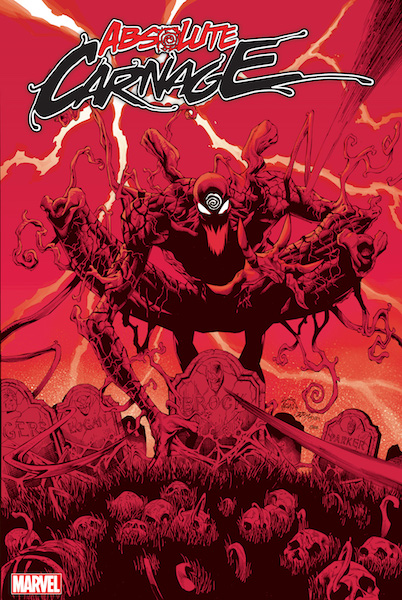 "Cletus Kasady is back, and he is deadlier than he's ever been," Cates teased in the video announcement. "ABSOLUTE CARNAGE encompasses every single character who has ever worn a symbiote and every symbiote that has ever been, going all the way back to when Peter found the black suit. Going from there to Maximum Carnage to Venomized to everything…everyone is a target."

Marvel Comics press release
See what I mean about "sort of"? Is Cletus looking to purge the Marvel U of rival symbiotes and those that've been bonded to them? Could be. Or could he be building an army of them? Could be that too.
I'm also intrigued by how far back Cates seems to be taking the narrative threads he'll be working with. Absolute Carnage goes all that way back to Peter Parker finding the Venom symbiote? That's certainly pretty deep.
While the narrative does encompass quite a bit of material, it officially starts with May 5th's (I thought it was the 4th?) Free Comic Book Day offering of Spider-Man/Venom #1. From that one shot, it'll roll into a presumed build up before the full-on Absolute Carnage debuts this coming August.