Deltarune, Ape Out and Treasure Stack arrive in the Nintendo Download this week, along with a couple of hidden gems.
More than meets the press release
So there are the three headliner games this week that I mentioned above. And that's great. I don't know about you, but I have no idea what any of them are, which brings me to the rest of the games hitting the Switch.
There are some real gems buried in the list. First and foremost is Toejam & Earl: Back in the Groove. I don't know why this didn't garner a mention in the spotlighted games section, but the return of a 16bit icon is kind of big news.
Then there's RBI Baseball. I know it has its issues, but this is the first hardball title of the year, and the only one landing on the Switch. And finally, there's Warhammer Quest.
A great over the top strategy RPG that has been available on mobile for years and just got a sequel, WQ is a really fun time. More so if you're a fan of the Warhammer world. It should be just as great on Nintendo's console.
Those are my picks, here's the full list:
Nintendo eShop on Nintendo Switch
DELTARUNE Chapter 1 – From the creator of UNDERTALE comes a new RPG. Create your own avatar, meet strange friends and jump into the darkness. By the way, this first chapter is free, so please feel free to check it out.
Ape Out – Ape Out is a wildly intense and colorfully stylized smash 'em up about primal escape, rhythmic violence and frenetic jazz. Build up nearly unstoppable momentum and use your captors as both weapons and shields to crush everyone on your procedurally generated path to freedom.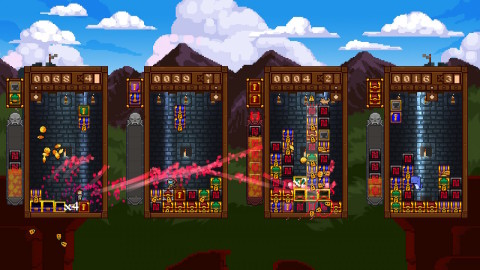 Treasure Stack – Fusing the pressure of a falling block puzzle game with grapple-powered platforming, Treasure Stack offers up a fast-paced party game experience. As treasure chests and keys fall from the sky and threaten to fill the screen, take direct control of a pixelated hero as you run, jump, grab, climb, grapple and stack matching colors to keep the blocky deluge at bay. The Treasure Stack game is available March 1.
Nintendo Mobile
Animal Crossing: Pocket Camp– Happy Homeroom is now in session! The Animal Crossing: Pocket Camp mobile game* just received a major free update that introduces Happy Homeroom, a newly added interior design mini-game. In Happy Homeroom classes, players with a Camp Manager Level of 6 or above can use the furniture they have to practice their interior design skills, which will be judged by Lottie and others. Passing Happy Homeroom classes increases a player's HH Rank, earning them items like HH material and more. If you haven't played Animal Crossing: Pocket Camp in a while, now is a great time to jump back in with all of this newly added content! See what's new by downloading the latest update and launching the game on your mobile device.
Nintendo eShop sales:
Nintendo eShop on Nintendo Switch, Nintendo 3DS and Wii U
New DLC:
Activities:
Happy Pokémon Day! – To help celebrate Pokémon Day, My Nintendo is offering Happy Pokémon Day cards, Meltan Wallpapers and more Pokémon game themed rewards from now until May 27. Have you exchanged your Friend Code from your Nintendo Switch system? Use the Happy Pokémon Day card to share it with your friends! For more info, visit https://my.nintendo.com/news/837f74adcdd985cb.
Also new this week: