Make of this variant cover what you will. Marvel has what they're calling a "van art" cover ready for War of the Realms #1.
Groovy
Do you remember van art? It's kind of something that you don't see much of any more, but it used to be everywhere. You have to go back a few decades, but it wasn't unusual to find vans decorated by some way out designs. These'd usually be painted across the side, and could have been anything, including dragons and other fantasy figures.
Again though, you don't really see this phenomenon anymore. Though that's not going to stop Marvel Comics from issuing a variant playing off the theme for the upcoming first issue of War of the Realms.
Keeping with the theme
I guess it's kind of fitting. After all, we're talking about fantasy themes and that's pretty fitting for War of the Realms. The Marvel Comics event series is very Thor-centric, and is loaded for bear with trolls, gods, and elves.
That includes Malekith, by the way, who we see here battling Thor in this piece by Art Adams and Matthew Wilson. Check it out below, and then get ready for War of the Realms' launch this April.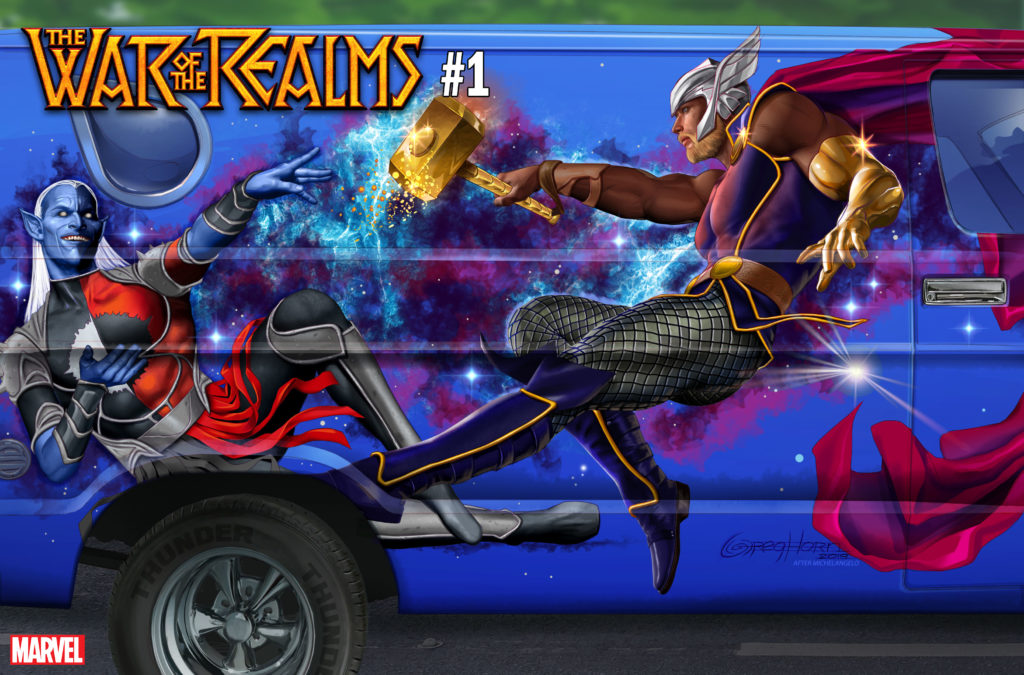 The War Of The Realms is coming…and no corner of the Marvel Universe will be untouched! Today, Marvel is excited to release a special Van art cover by superstar artist Greg Horn! This stunning landscape cover will be available as a WAR OF THE REALMS #1 variant cover.

This April, all hell will break loose as Marvel's epic event from the award-winning creative team of Jason Aaron, Russell Dauterman, and Matthew Wilson usher in an event of unparalleled scale! Plus, don't miss a special midnight release of WAR OF THE REALMS #1 for retailers – be sure to check future Marvel mailers for details!

For more information on WAR OF THE REALMS, visit Marvel.com.

Marvel Comics press release