Landing at retail last year, Arcade1up has some cool retro arcade standups already. Now they've added Mortal Combat, Final Fight and more.
Just like the real thing, only smaller
We haven't really been following along with Arcade1up here at BG, but it's not because the machines aren't intriguing. If you're unaware of the company, all you really have to know is that they make 3/4 size arcade cabinets for the home.
These aren't incredibly expensive things either, as each one run a few hundred. That might sound like a lot, but go check eBay for a full size quarter-muncher and you'll see that it really isn't. And unlike the actual arcade machines, these carry a few game a piece.
If you're looking at the Street Fighter one, you get the Champion Edition, Super, and Super Turbo. Pretty cool. If you're a big fan of any of the games that the company features, these are mighty appealing (even though you have to sit to play 'em).
So far, Arcade1up has six machines out there on the market. And they are: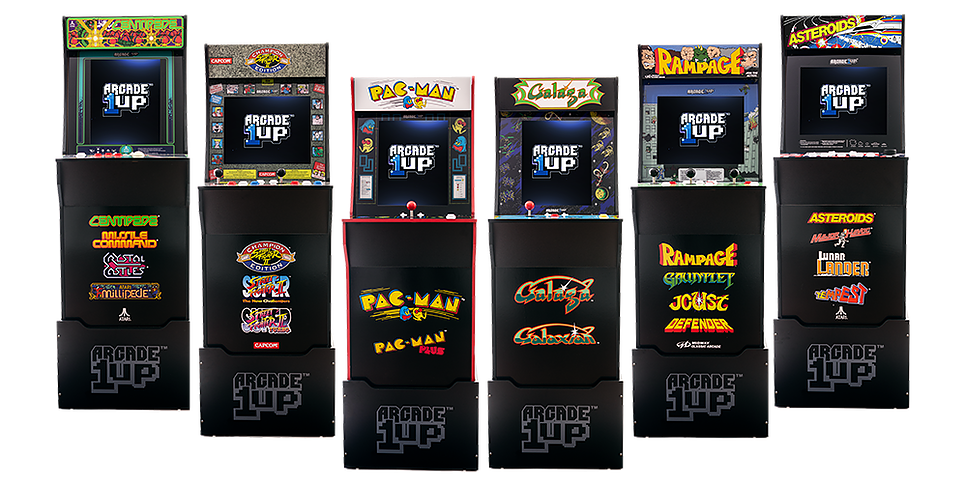 Centipede

Centipede
Missile Command
Crystal Castles
Millipede

Street Fighter

Street Fighter II: Champion Edition
Super Street Fighter II
Super Street Fighter II Turbo

Pac Man
Galaga
Rampage

Rampage
Joust
Gauntlet
Defender

Asteroids

Asteroids
Major Havoc
Lunar Lander
Tempest
More-cade
As of this CES, there are five more on the way. The latest additions were just announced at the tech show in Las Vegas, and once again include a pretty major list of classic titles.
Like the above, the new titles will each have a headline game that will dominate the cabinet.
Mortal Kombat

Mortal Kombat
Mortal Kombat II
Mortal Kombat 3

Final Fight

Final Fight
1944
Ghosts n Goblins
Strider

Space Invaders

Space Invaders Color
Space Invaders Black and White

Golden Tee

GT Classic '01
Golden Tee '2k
Golden Tee '99
Golden Tee '98

Karate Champ

Karate Champ
Bad Dudes
Burger Time
Caveman Ninja
Better than the first selection? Maybe. That MK cab is mighty cool all by itself. Just a note though for those planning their at-home mini-arcades, as the new launches will be staggered throughout the year.
Final Fight and Space Invaders will arrive in February, with bar classic Golden Tee in June, and both MK and Karate Champ in September. So plan accordingly.
We also mentioned new form factors. While there's not a ton of info yet on those, industry site TheToyBook is reporting that there will be both wall-mounted and countertop units. So you should be able to fit most spaces with what Arcade1up has on tap for their catalog.
Source: TheToyBook