Transmitting HD video wirelessly might seem like a fantasy, even today. But you'd be surprised by what ioGear has managed.
Wireless video is here
I've always thought of wireless video solutions as a fantasy. Well, in a way anyway. For one thing, the technology that would need to go into making something like that stable feels like it's just not there yet. Wireless for audio? Sure, no problem. For video? Eh, that's another thing entirely.
The other reason I'd assumed wireless video was a pipe dream at this point is price. I've seen units that boast wireless advertised, but it always sounded like such solutions were priced out of all but the highest end of hands.
Here's the thing though, both of those trains of thought are wrong.
Stable wireless, from transmitter to source
What I assumed was one thing, but the reality is another entirely. And what ioGear has managed to pull off almost feels like magic. Well, it does to me anyway. Bear with me here, I thought this whole thing was a fools notion just a few weeks ago remember?
Setting up the system, which is broken up into two distinct parts (plus a remote) is as easy as pie. Just plug your blu ray player into the transmitter, and you're ready to go. The Wireless HD Digital Kit offers two ports as well, so you don't even need an HDMI switch if you only have a few components. Actually, it makes things infinitely easier if you don't, depending on where and how you want to use this bad boy.
Let's get back to the setup though. On the other side, you'll plug the monitor you want the content on into the receiver. Both work via HDMI. I imagine you could use a converter if you needed to use a component cable, but that's not an option out of the box.
Also, before we go any further, you should also know that both units are powered. You will need to plug both in to a wall outlet too, as neither one will run off of something like USB. That's not really a big thing, but I feel like it's worth mentioning since I had to acquire a new surge protector for myself in order to plug one of the units in.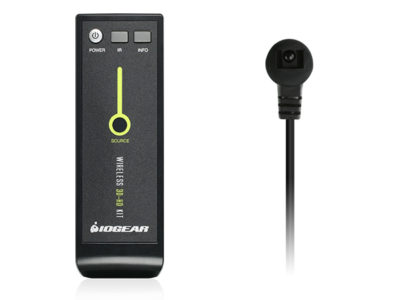 Anyway, after all that's done, you're more or less ready to go. It actually is that easy. The Wireless HD Digital Kit even offers an IR passthrough, so you can access your remote device at the "receiver" end of the setup.
Odds and ends
While setup is that simple, there are a few things that you should be aware of. The first is that ioGear boasts a 100 foot signal reach on this unit. And they say that it can even penetrate walls and floors. I found that to be… mostly true.
I had no issues with the range when obstacles weren't a problem. Actually, I had no issue when they were a minor hindrance either, as the signal seemed to go through a cabinet door pretty easily. What did present a problem though was casting a signal through floors.
At that point I saw some spottiness, and sending a signal though the mystical barrier that exists between my living room and basement was just flat out not gonna happen. Though, just in case you didn't get the inference there, that feat seems impossible for almost everything I've ever used. So I'm going to more say that it's just a situational challenge.
I actually did check the documentation too, and found a few items of note. The biggest being that, for the best quality, the transmitter and receiver should have a line of sight with each other. And also, they shouldn't be mounted behind the video source or monitor. I imagine that's not a big problem either way for most people, but it's worth mentioning.
Is it worth the price?
The bottom line here is that the signal offered by the Wireless HD Digital Kit was shockingly consistent. And setting things up according to the above guidelines produced a video quality that -honestly- blew me away.
I literally could not believe the result. It was that good. And the ability to keep components separate from the television is a boon to my current setup. I don't have a ton of room beneath my screen, so housing devices in a cabinet on the other side of the room is just awesome. Everything is tidy, looks great, and actually fits.
As I mentioned, all this doesn't come at a tremendous cost. Though it's not cheap either. The kit if selling for $199.99 USD at outlets like Best Buy right now. Again, I get that that's not bargain basement, but for a piece of tech that actually performs the function it advertises (mostly), it's not terrible either. And hey, you might find it on sale, given that this is the Holiday season.
If you do decide to dive in though, I think you're going to like what you see.
ioGear Wireless HD Digital Kit
Release Date: Available now
Maker: ioGear
MSRP ($): $199.99 USD
Ease of setup and use - 100%
Utility - 90%
Proficiency - 95%
The best thing to say here is probably that the Wireless HD Digital Kit does what it advertises. This little device sends video wirelessly, and actually manages to make it work. It's borderline expensive, and works best with a line of sight, but the results are stunning.