If you're in the market for some good Blizzard merch, then you might like this news. The company announced a slew of cool stuff this weekend.
Stuff
Blizzard is mainly known for games, and not for any kind of stuff to go along with their games. Not that there haven't been action figures and such for games like Warcraft and Diablo. While not unheard of, are a little few and far between though.
It seems the publisher is looking to remedy that, and it starts with Overwatch. Blizzard's newest sensation is the focal point of this blitz, though hopefully that'll branch out a bit as we go.
This past weekend the company did announce a bunch of new items at their BlizzCon show. Though most of it was probably overshadowed just a bit by… other happenings. Nonetheless, it's some neat stuff, so we thought we'd show you some.
With the licensed goods arriving in 2019, you've still got some time before you'll see them at retail. It's an impressive swath though, with partnerships being announced with brands like Hasbro, Funko, and of course LEGO.
Here's a peek at some highlights:
LEGO Overwatch is officially coming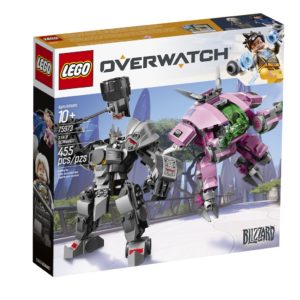 Six LEGO® Overwatch building sets, ranging in price from $14.99 to $89.99, [https://www.lego.com/en-us/themes/overwatch] were previewed for BlizzCon attendees, including: Tracer vs. Widowmaker, Hanzo vs. Genji, Dorado Showdown, D.Va & Reinhardt, Bastion, and Watchpoint: Gibraltar. Sets feature fan-favorite vehicles and characters in minifigure form, such as Tracer, Widowmaker, Hanzo, Genji, Shimada Henchman, Soldier: 76, McCree, D.Va, Reinhardt, Pharah, Mercy, Reaper, and Winston. The LEGO Overwatch collection will be available at mass retail in early 2019. As previously announced, fans attending BlizzCon may also purchase an exclusive LEGO Overwatch Omnic Bastion building set by visiting the Blizzard Gear Store.
Hasbro is the master toy licensee for Overwatch
As the master toy licensee for Overwatch, Hasbro previewed a range of NERF Overwatch Rival + Microshots blasters with select items exclusively available for pre-order now at gamestop.com/NerfOverwatch and full line coming in January 2019. Hasbro also revealed the OVERWATCH ULTIMATES MERCY figure, which is the first figure to be unveiled within its OVERWATCH ULTIMATES FIGURE assortment, coming to most major retailers next spring.
Her Universe and UNIQLO will be offering wearables
Her Universe, a leading fan-focused lifestyle and fashion brand, announced their expansion in the gaming space at BlizzCon. "Fans have been asking us for World of Warcraft and Overwatch fashion, and I'm thrilled to have had the opportunity to work with Blizzard and make these collections a reality," said Her Universe founder Ashley Eckstein. The Her Universe World of Warcraft women's fashion collection is now available on www.HerUniverse.com and at the Blizzard Gear Store (www.gear.blizzard.com), and an Overwatch fashion collection for both women and men, under the company's new label Our Universe, will debut later in November at BoxLunch and in December at Hot Topic.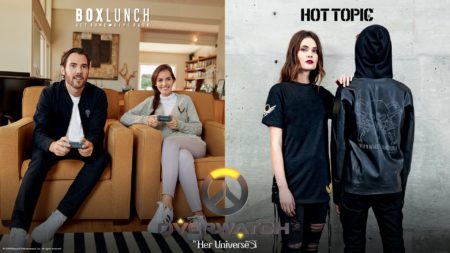 UNIQLO and Blizzard announced that, following the success of the 2018 Blizzard Entertainment collection, the two companies will be partnering once again on a new apparel line. The collection of exclusive designs will be available in spring 2019 across all Blizzard's franchises.
More Overwatch POP!s are coming up, as well as vinyl figures
FUNKO and Blizzard revealed their latest Overwatch POP! vinyl figure, modeled after Ashe, a new hero revealed at BlizzCon, in addition to a messenger bag from Loungefly. The Ashe vinyl figure and messenger bag are available for purchase at BlizzCon and on the Blizzard gear store.
And there are tees coming from Hot Topic
In celebration of the fan art community, HOT TOPIC and BOXLUNCH partnered with Blizzard to launch a contest where artists rallied to submit hundreds of original Hearthstone, StarCraft®, Heroes of the Storm®, World of Warcraft, Overwatch, and Diablo designs for the opportunity to have their creations featured on t-shirts at Hot Topic, BoxLunch, and the Blizzard Gear Store. Fan favorite designs from World of Warcraft will be available at the Gear Store and onsite at BlizzCon, while additional designs from Blizzard's roster will be available at Hot Topic in mid-November with the grand-prize-winning Diablo design set to debut at BoxLunch in late November.