Mezco Toyz' take on the Marvel Cinematic Universe's version of homemade Spider-Man is live and ready for pre-orders.
Homecoming
The hand-made costume that Peter Parker wore before getting the Stark-created Spidey suit got a decent workout in Spider-Man: Homecoming. While it wasn't in Captain America: Civil War all that much, Spidey had to don the costume once again to battle Vulture and his henchmen.
As takes on a first attempt go, it was fun and very different. For Spider-Man stalwarts that's probably enough to be interested in Mezco's One:12 take on it. For action figure fans in general, well it's a One:12 figure. So it's almost automatically at least worth a peek.
This particular figure looks pretty neat too, with the Scarlet Spider-esque hoodie and a Tom Holland alternate head sculpt. That's a first for the line. Plus it represents an expansion to the Marvel movie part of the One:12. That's pretty cool too.
The figure is available for pre-orders now, and will be shipping out some time this winter. Scroll down for more, or click here to get one for yourself.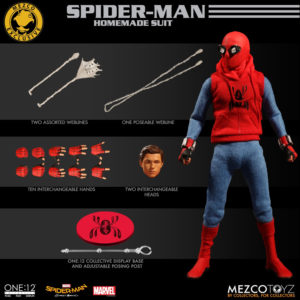 THE ONE:12 COLLECTIVE SPIDER-MAN FIGURE FEATURES:
One:12 Collective body with over 30 points of articulation
Two (2) head portraits
Hand painted authentic detailing
Approximately 16cm tall
Seven (7) interchangeable hands including

One (1) pair of fists (L & R)
One (1) pair of web-shooting hands (L & R)
One (1) pair of posing hands (L & R)
One (1) webline holding hand (R)
COSTUME:
Hooded vest with functional drawstrings and spider insignia
Body suit
Web shooters
Knee high socks
Sneakers
ACCESSORIES:
One (1) webline style A
One (1) webline style B
One (1) posable webline
One (1) One:12 Collective magnetic display clip
One (1) One:12 Collective display base with logo
One (1) One:12 Collective adjustable display post