Dynamite Comics has a brand new line coming up this January. Their series of Giclée is set to kick off with that classic vamp, Vampirella.
High end
Before we get into the specifics, do you know what a Giclée is? I can honestly say I've always found the term  little hard to grasp. Fortunately, Dynamite has seen fit to offer an explanation.
Giclées are high-end reproductions that capture every detail of the original humanly, mechanically, or technically possible. The resulting print has no perceptible dot pattern, an endless array of richly-saturated color, and every nuance of the original image. The latest inks offer a 70-year light-fastness and UV-resistance under museum archival conditions.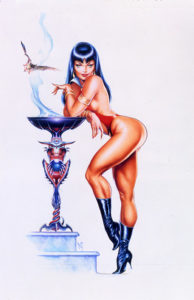 I'm actually glad Dynamite Comics included that little definition in the press release for this. Now that we firmly know what they are though, let's dig into this story.
As you've seen, Dynamite is starting up a line of the high end art pieces. So of course, they're starting off with one of their best loved characters, Vampirella. She will star as the subject of the first piece, drawn by Dave Stevens.
Stevens' work will be printed in 34 3/4″ X 17 1/2″ format, so it'll be a nice big image. Again though, his is just the first. Following will be a bunch of artists, including Jae Lee, Joe Jusko, and Joseph Michael Linsner.
"We're incredibly passionate about the artists we work with and the artwork they create.  This new Giclée program will give fans a chance to appreciate some of the more iconic pieces we've published in our history," said Nick Barrucci, CEO and Publisher of Dynamite Entertainment. "We're beginning with a beautiful rendition of Vampirella by the excellent Dave Stevens, from there we'll offer limited print runs of additional characters and artists on a monthly basis."