Retailer Entertainment Earth has started a monster push with the classic wooden toys of old. The licenses however, are as current as anything.
Classics restored
If you were born some time in the 70s or 80s, chances are you played with something that looked like one of the toys we're looking at here. And that's exactly the idea behind Entertainment Earth's newest initiative.
The toy retailing giant has a bunch of wooden toys on the market today, with more coming up. Aside from being just cool collectibles for those who do remember what's come before, they're also aimed at (actual) kids. EE is looking to bring back that simpler age of toys, where imagination played a bigger part than sculpting and articulation.
Here we're taking a look at three items from three different lines. Each one was a sample that we picked up from Entertainment Earth at this past SDCC, and each one is pretty different.
All of them though, have the same flavor.
Wittles
Let's start here, since this Wonder Woman is the biggest figure of the bunch. And she's pretty neat too. Diana has no moving parts at all, and looks to be basically two pieces – the hair and the body.
She kind of recalls a giant version of the classic Little People line from Fisher Price, and she's very nicely painted. Her colors are sharp and vivid, perfect for a little one or the desktop.
Not that she's perfect. There is a little flub on the belt, as the back is weirdly overlapped for some reason. Otherwise she does looks great, and honestly a child isn't going to care about a kind of sloppy paint application.
Much like the figure itself, the packaging is eye catching. There are some nice graphics along the sides and on the back, as well as a generous window, where Wonder Woman peeks out. And of course, it's resealable, which is nice if you're an adult collector.
Luckee the Pinmate
Unlike WW, who's sort of looks like a Little People figure, Luckee here basically is one. The spotted dog looks almost like a carbon copy of one of the most iconic LP figures, from the heyday of the line.
Now of course, Little People have actual sculpting and… arms. But not years ago, as these were as simple as they came, and it's cool to see that again. Called Pinmates by Entertainment Earth, these figures come in a variety of flavors, and include both Marvel and DC superheroes and villains, as well as some sci-fi properties. The line is not limited to figures either, as there are playsets and vehicles too.
Much like the Wonder Woman Wittle, there's no articulation here, just a fun little figure. The paint though, is perfectly applied and looks great. Also unlike Diana, Luckee's packaging is a blister card, and is not resealable. Kind of a bummer, though again, if you're getting one for a child I doubt they're going to care.
Deadpool Push Puppet
And the final piece we're reviewing today is a Deadpool Push Puppet. This one's probably more of a collector item, and less for kids. Though that's mainly due to the nature of the character presented. Deadpool is a little bit more "adult" than either of the other figures above.
Much like both of them though, he's made of wood (get your mind out of the gutter). Deadpool is unique though, in that he's a Push Puppet. Those you've no doubt seen before, as they used to be everywhere.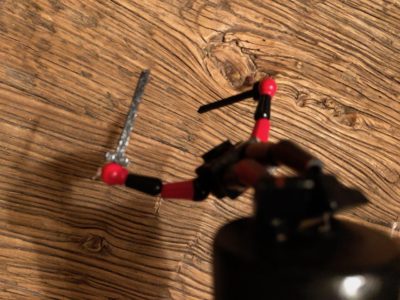 Basically, you push the bottom of the stand in, and DP moves about. A little. He honestly kind of just falls down like he's had too much to drink. But that's something that pretty much every Push Puppet ever has done, so it's no fault of this one in particular.
What's neat is that his arms are a little bit poseable. You can pose him raising his swords, with them down towards the ground, or anywhere in between. He's also got a dynamite paint job, and a really detailed little baby Cable (for some reason) strapped to his chest.
Mine did have a part fo the packaging stuck to his base however, and right over the name. What that resulted in is the nasty "rip" that you see in the image. I don't know if that was just my figure, or something more widespread.
Just a word of warning too, I wouldn't give this one to too young of a child. There are a lot of small parts since I have to imagine that the arms could be pulled apart pretty easily.
Overall
These are some cool little figures. They're not of the scale and level that you'd normally expect a "collector figure" to be, but they're not supposed to be. They're meant to bring back an art form that's been gone for a while.
All of these are also meant to be appealing to kids, and get them thinking and playing out adventure that don't involve apps or video games. As much as I love the latter, I think that's pretty incredible.
I'm a toy fan just as much as I'm a video gamer, and we live in an age where toys are rapidly becoming niche. I'd rather not see that happen. Hopefully stuff like the three figures here will
Samples provided by Entertainment Earth for review
Wooden nostalgia
Wonder Woman Wittle - 81%
Luckee Pinmate - 90%
Deadpool Push Puppet - 77%
Though there are certainly plenty of toys on the market today, there are few that have the simplicity and emphasis on imagination as the lines coming out of Entertainment Earth. And though I'm the first person to talk well of electronics and toys oozing with detail and articulation, there's just something incredibly wholesome and fun about these.