Fans of Kratos have more to look forward to with today's announcement of a comic book mini-series. The God of War is back.
Kratos returns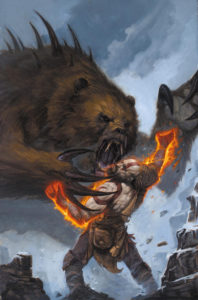 God of War for the PS4 debuted earlier this year to raves from both fans and the media. We tagged it with an amazing grade of 96%, and calling it a "masterpiece". Easily one of the highlights of 2018, God of War gave the PS4 a GotY candidate. It restarted a franchise too, giving Kratos a new purpose and fresh energy.
This new comic series, set to run four issues, is set between the PS3 trilogy and the new rebirth. From the sounds of it, it should give fans a heaping helping of what they love most about the series.
The God of War comic series finds Kratos living in the remote Norse wilds after his war on the gods of Olympus. Seeking to put the rage that defined most of his life behind him, Kratos inadvertently sparks a feud with a mysterious cult of berserkers after attempting to save a stranger being mauled by a monstrous bear. But for the former Ghost of Sparta, no good deed goes unpunished.
Aside from a cool, prequel/sequel storyline, the series will have a pretty sharp pedigree too. Witchfinder writer Chris Roberson and artist Tony Parker will be at the helm for it. You won't have long to wait for this one either. God of War #1 (of 4) is set to hit stands on November 14th.