Nintendo has another impressive array of games hit the Switch and 3DS, with Overcooked 2, Salt and Sanctuary, and Warioware Gold.
Spreading the games around
Warioware Gold might not be a marquee release, but it's still a major launch for the 3DS. That was something that I thought we might not see again, especially since Nintendo seems to have forgotten all about their dedicated portable as of late.
The reason for that of course is the Switch. A console that functions in both home and handheld modes tends to make a dedicated portable kind of obsolete. And in that arena, there are several big games hitting this week. Overcooked 2 is the headliner, but indies Salt and Sanctuary, Dead Cells, Guns Gore and Cannoli 2, 1979 Revolution, and Flipping Death are out too.
All in all a great week, with plenty to keep the faithful busy.
Nintendo eShop on Nintendo Switch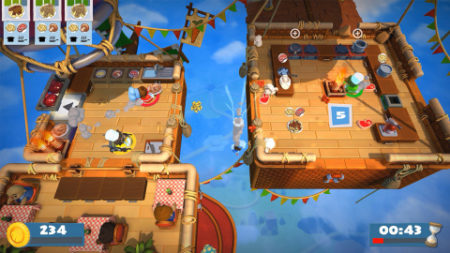 Nintendo eShop on Nintendo 3DS
WarioWare Gold – The infamous schemer Wario is back! Play his new microgame collection, where you'll have seconds to complete 300 different microgames. Better think fast to succeed! You'll use the touch screen, tilt the system, push buttons and rock the mic as you laugh through fully voiced stories featuring new and classic characters. The WarioWare Gold game will be available on

Aug. 3

.
Nintendo eShop sales:
Nintendo eShop on Nintendo Switch, Nintendo 3DS and Wii U
Activities:
Fire Emblem Heroes: Feh's Summer Celebration – It's been one year and six months since the release of the Fire Emblem Heroes smart phone game. We're throwing a Summer Celebration full of limited-time events, including log-in bonuses, special quests and daily reward maps, to express our gratitude for your continued support. Check out the game site for more information about the celebration.
Keep the fun going all summer long with action-packed My Nintendo rewards! – To help celebrate the launch of the WarioWare Gold game, we're offering Wario-themed rewards, like a Nintendo 3DS Home menu theme featuring Ashley, one of the key characters from WarioWare Gold, and wallpaper. Redeem your points to get them!

My Nintendo is also offering up to 50 percent discounts on action-packed titles that'll give your gaming skills a workout throughout the summer. Check out the rewards and redeem your points for the discounts today.
Click here for more details.
Also new this week: