Crash has hit the Switch, bringing a very solid trio of platformers to Nintendo's console. As you might imagine though, it's not prefect.
Crash arrives
As a fan of the original series, I'm pretty excited that The N.Sane Trilogy has released for the Switch. Not just because Crash is finally on a Nintendo console, but also because this is what amounts to a portable version. Thanks to the Switch's design, this is a version of the game (originally released last year) that you can not only play at home, but on the road.
That's a major plus for me, and I assume a good number of other gamers out there. And honestly, it kind of erases some of the negatives that this edition in particular brings with it.
Story
Since there are three games included here, there are three stories. But since this is also a series of classically designed platformers, none of these stories are all that interesting. And they don't need to be, since the star of the show is pretty much everything else.
All you really need to know is that Doctor Neo Cortex is a very bad guy, and Crash's gotta stop him. That's about that.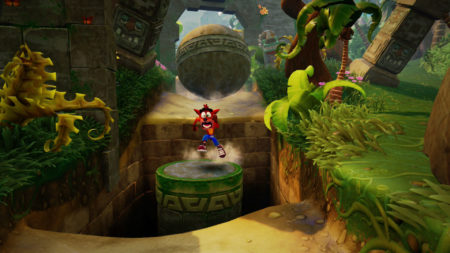 Graphics and sound
One of the first things you'll notice about this version of The N.Sane Trilogy is that it's not as graphically intensive as the PS4 (or Xbox One) version. I received the Sony version last year, when it was exclusive to the console, and it was a knockout visually.
That's not what you get on the Switch however. But that's not to say that this game looks bad, because it does not. Particularly in handheld mode, The N.Sane Trilogy looks pretty darn awesome. It's only really when you play it on the big screen of your TV that you'll notice some issues.
The graphics look a bit muddier than on the PS4, though that's not all. Some of the text that appears on screen also appears to be very low-res, with some jagged edges. That wasn't an issue that I can recall previously, but it sure is now. It's not everything mind you, and that kind of makes it even weirder. Other than that though, The N.Sane Trilogy looks great. It's nice and colorful with lots of fantastic detail and loads of imagination rolled into pretty much everything.
As for the sound quality, it's excellent. Everything from Aku Aku's signature exclamations to the island-y tunes sound awesome.
Control
So this is kind of weird. The controls are great, but with a few issues.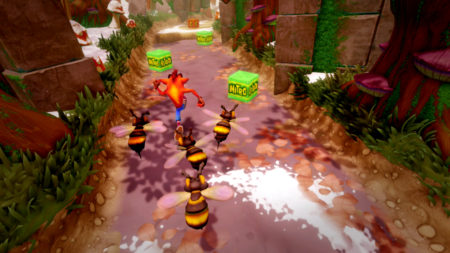 If you played the previous release, or the classics that it's based on, then you'll feel right at hime here. Crash spins into and stomps baddies, and collects wumpa fruit just as he's always done. It's spot-on. Most of the time.
I have noticed a few instances where there were some control abnormalities. It's not a constant thing, but I have had stuff happen that I wasn't (actually wasn't) responsible for. This includes jumping and suddenly swerving to the left off of a rope bridge and getting Force-shoved back off of a precipice.
Could there be a slight issue with hit-detection? Could be since both instances involved nearby baddies. And again, it's not a constant. If you do the same area a few times it might happen once or twice, but not every time. Weird. Not game-breaking or anything, but weird and a little annoying.
Extras
There's a lot in The N.Sane Trilogy, and all of it's intact here. Actually, there's even more than was included in the original PS4 release.
The three greatest Crash Bandicoot adventures of all time are included (the first three), and they're all redone from head to toe. These are total conversions that feel like brand new games, but retain the design of the original games.
Additionally, you also get a pair of fresh levels, not included before. Apparently one of these is an unfinished stage from the original game from the PSOne too. So there's a little bit of Crash history here.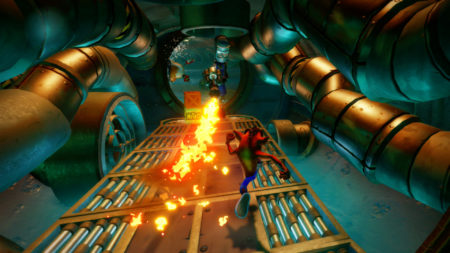 Final Thoughts
All in all, there isn't much to complain about here. For your cash, you get three excellently made games for your Switch, all of which once stood on their own as separate releases. Though the mysterious control issues to worry me a bit, I feel like Crash Bandicoot: The N.Sane Trilogy  is still very much worth your time.
Crash Bandicoot: The N.Sane Trilogy
Release Date: June 29th, 2018
Platform(s): Nintendo Switch (reviewed), PS4, Xbox One, PC
Publisher: Activision
Developer: Vicarious Visions
A Crashing good time
Graphics and sound - 83%
Control - 86%
Crash Bandicoot: The N.Sane Trilogy is still a great set of games, made even better since it's now portable thanks to the Switch. It's not as graphically sharp as the other platforms' versions, and has a few mysterious control oddities, but it's mostly a joy to play. Go check it out.