If you like Harley Quinn, then you're going to love what DC Collectibles has on top for the start of the year. It's packed with statues based on the clown princess and more.
Clowning around
DC Collectibles has been a roll the last few years. While there have been some misses like the Icons line (which I nonetheless liked a lot), there have been many more hits. Right there with those are the continuously excellent statues that the company produces.
From higher end stuff to the more inexpensive offerings, the quality is almost always as high as it can get. I have a few of the Batman Black & Whites myself and they have a permanent place on my shelf.
As for what's coming up to start 2019, it's a lot of cool Harley Quinn stuff.  Not that that's it, but Harl makes up the bulk of the four statues announced today. Also included though, is a cool Nightwing & Batgirl based on the art of Ryan Sook.
Have a peek at all of the above below, and expect it on the shelves this coming February.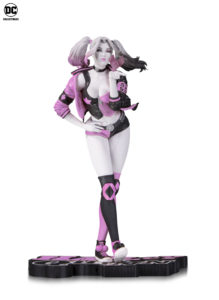 Harley Quinn Pink, White & Black: Valentine's Variant by Stanley "Artgerm" Lau Statue
This limited-edition, mad-lovely Valentine's Day variant is based on the HARLEY QUINN #1 Rebirth variant cover by renowned artist Stanley "Artgerm" Lau.
Based on the art by Stanley "Artgerm" Lau
Sculpted by Alejandro Pereira
Limited to 5,000 pieces and individually numbered
Size: 7.5'' tall
MSRP: $80.00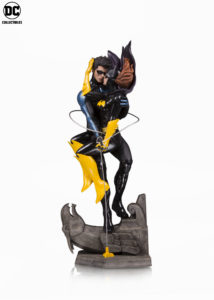 DC Designer Series: Nightwing & Batgirl by Ryan Sook Statue
Workplace romance is never easy and doing it behind a mask while protecting the streets of Gotham City takes the difficulty to new heights. But being able to embrace your beloved while hanging upside down via grapnel-gun cable makes it all worthwhile. This statue is inspired by the art of Ryan Sook and is designed to stand upright or be mounted on a wall so the characters can hang inverted in their embrace. This polyresin statue is limited to 5,000 pieces.
Designed by Ryan Sook
Sculpted by Paul Harding
Limited to 5,000 pieces and individually numbered
Size: 13.7'' tall
MSRP: $250.00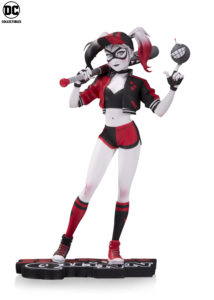 Harley Quinn Red, White & Black: Harley Quinn by Mingjue Helen Chen Statue
It's time for deadly baseball! Harley Quinn is a formidable foe with a baseball bat, but when you swap out balls for live bombs, her game turns lethal.
Designed by Mingjue Helen Chen
Sculpted by Alejandro Pereira
Limited to 5,000 pieces and individually numbered
Size: 7'' tall
MSRP: $80.00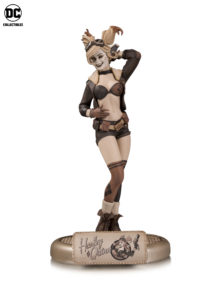 DC Bombshells: Harley Quinn Sepia Tone Variant Statue
Based on art by Ant Lucia
Sculpted by Alejandro Pereira
Limited to 5,000 pieces and individually numbered
Size: 10.75'' tall
MSRP: $125.00