In a state of "early access" for some time, We Happy Few is finally finished and ready to roll out. Expect it to hit consoles and the PC this August.
So, so happy
Set in retrofuturistic 1960s England, players will find a city ravaged by war and rebuilt by delusionally happy people. Everything appears joyful in Wellington Wells, including its roads, its people, and its omnipresent television personality: Uncle Jack! But, it's actually a world on the brink of collapse. Unveil its dark history, and discover how and why its residents came to be so beguilingly happy.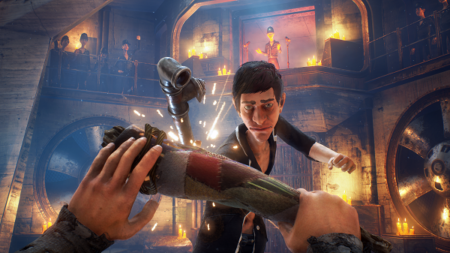 We first covered this game a long while back, outlining the finer points of the Early Access PC version. But finally, at long last, We Happy Few is complete. The game was announced for an August 10th release at the E3 Xbox press event, and got a few more details as well.
Apparently, Wellington Wells was cut off from the rest of the world right around the close of WWII. That makes for a very interesting, almost Bioshock-like scenario. The game will have a running time of 20+ hours and allow players to pick from three heroes. These aren't square-jawed do-gooders though, as each one has a sketchy past and are looking for redemption.
Overall, it sounds like We Happy Few is rounding into fine form. Expect it to hit for the PS4, Xbox One, and PC simultaneously. And yes, it will indeed have HDR and 4k upgrades for the higher end console variations.