With a fresh run just about here, Marvel is already talking up the third issue with a pretty oddball teaser. The Amazing Spider-Man #3 will reportedly somehow feature a battle between Spider-Man and his alter ego, Peter Parker.
Amazing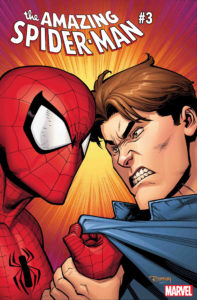 There's a few different ways this one could be heading, especially considering comments from writer Nick Spencer.
"The best Spider-Man, his personal [trouble] is mirroring his troubles in costume, and the two stories are feeding each other and being Spider-Man always comes with considerable costs to Peter," Spencer told Comicbook.com. "It's always getting in the way of his life. So, to me, it's kind of a dance between those two things at this stage."
So will this be an actual fight between the webbed-wonder and the average Pete from Queens? Or might this be a metaphorical one-on-one instead? Maybe another go at the oft visited Spider-Man trope of Peter wanting to be "done" with the hero game? If it is, I have a feeling how it'll be playing out.
Again though, this is a teaser for issue three, and we've got a little ways to go till we get to this arc. After all, we haven't even gotten to #1 yet. That issue is set to arrive on the racks in two months time, post-Red Goblin and writer Dan Slott's departure.
Watch for it to arrive on July 11th, from Spencer and artist Ryan Ottley.