Have you been following the current run of Valiant's biggest hero, X-O Manowar? Well, even if you have, you might dig this new Compendium from the publisher. The massive tome includes over 800 pages of content, collecting a good chunk of the character's modern run.
Man of war
One of the biggest heroes in the Valiant universe, X-O Manowar has been a mainstay throughout the publisher's run. Properly named Aric of Dacia, the hero is an ancient warrior brought to the modern age. But there's no steel here, as he wields an alien combat suit that just might be the most powerful weapon in the galaxy.
To put it mildly, there's a lot to work with there. Valiant has turned out some excellent stories starring Aric over the years too, with a year-long arc just wrapping up now.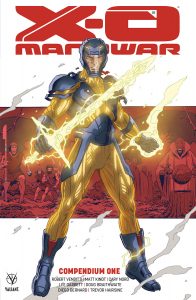 The current story line sees Aric heading back to Earth, after an extended stay in deep space. It's been quite a time, as he's gone from a slave to an emperor… before waging a one man war on his treasonous former subjects. Now that he's back, I assume we'll see Aric getting reintegrated into the Valiant U proper.
And right along with Aric returning to Earth, we're getting a book that should be perfect for first-time readers of the hero. X-O Manowar Compendium One is a monster book, topping out at over 880 pages. These are the initial tales of the Manowar, and contained within you'll find:
X-O MANOWAR (2012) #1–29
UNITY (2013) #1–4
ARMOR HUNTERS #1–4
Thats a lot of reading right there. And this is almost all great stuff, with some of the best creative teams around. Among others, the book touts work from writers Robert Venditti and Matt Kindt, both Valiant mainstays. As for the art, you'll find pencils from Cary Nord, Doug Braithwaite, Lee Garbett, Diego Bernard, and Trevor Hairline among others. That's some all-star stuff right there.
Coming in at $59.99 USD, the X-O Manowar Compendium One is set to hit retail on August 22nd.