The rocking soundtrack for Bethesda and iD's Doom revival is coming to physical formats this summer. Both CD and vinyl formats are available for pre-order now.
Music from hell
Doom's OST has had an interesting path to this point. When the game originally dropped for the Xbox One, PS4, and PC back in 2016, there was no soundtrack available. That might not sound strange, since not that many games get musical releases, but fans were clamoring for one.
If you're not aware, Doom's soundtrack is a wonderful mix of heavy rock and metal. It even worked in the original E1M1 tune from the original game. It's killer, and garnered creator Mick Gordon more than a few awards.
So it wasn't too long before Bethesda launched a collection of the game's music in digital format. I have it, and it's become one of my favorite video game soundtracks ever. There was however, no mention of a forthcoming physical edition.
But it looks like the Doomslayer just can't be denied, and so we've got one from Laced Records. Well, actually not just one. A total of four retail packages will be hitting for the 'track, and that includes one that gets you both versions.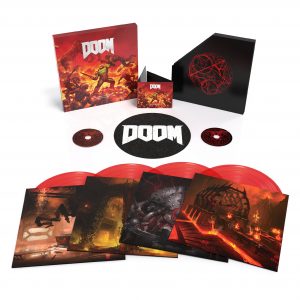 m
Here's how they break down:
Deluxe Double CD: Featuring a premium triple gatefold sleeve and available direct from Laced Records and participating retailers worldwide (RRP: $15.00)

Double LP: Pressed on 180g blood red vinyl and complete with premium packaging this version features 20 favorite tracks selected by the developers themselves. Available direct from Laced Records and participating retailers worldwide (RRP: $35.00)

Special Edition X4LP: Cut at the legendary Abbey Road Studios this four-disc vinyl set is encased within double hard slip cases and features premium printed inner sleeves with DOOM artwork. Pressed on black vinyl it includes the full DOOM soundtrack and is available to pre-order direct from Laced Records store and participating retailers worldwide (RRP: $80.00)

Special Limited Edition X4LP: The four-disc special edition comes with all the bells and whistles of the Standard Edition X4LP but is pressed on 180g blood red vinyl and adds the Deluxe Double CD, plus a custom turntable slipmat. The Special Edition is only available via pre-order for a 14-day window ending 2nd May 2018 direct from the Laced Records store only. (RRP: $100.00)
All of the above are available right now for pre-order. But head's up, because the window is not a generous one. You've only got till May the second to get your order in. After that, these tracks head back to hell.