Playmobil expands their Ghostbusters figure/set line with an animated The Real Ghostbusters wave. Each figure comes with a vehicle, a ghost, and heaping helping of nostalgia.
Retro-cool
Man, is it a good time to be a Ghostbusters fan. More specifically, it's a good time to be a Ghostbusters toy fan. This week alone, we've outlined Mezco and DST's new figures. While most of that is of the classic movie variety, there's a good deal of animated figures coming soon too.
Right there in with that trend is Playmobil, who's got a set of four Real Ghostbusters-themed sets hitting stores next month. Each one comes with a member fo the team, and a vehicle that immediately recalls the classic Kenner GB line from the 80s. I actually think I had something like the "Skybike" that we're looking at today. If I didn't, then I had something very, very close. And that's a cool thing for a longtime fan to see.
As you can see too, there's plenty of branding. Aside from the "The Real Ghostbusters" logo on the front of the box, there's an image straight form the cartoon on the side. Overall, the box has a nice, classic look to it, that'd honestly be at home today, or in the heyday of the show.
Once you crack it open, you'll notice it's resealable with a tab, which is great for those who don't display their stuff. I'd imagine though, that that particular "feature" would last all of a few seconds in the hands of a kid. It would have in mine anyway.
Anyway, once open, the box contains three bags of parts, the body of the title vehicle, and a little booklet. The book just shows off a bunch of other Playmobil sets (LOVE the look of the Egyptian ones), so let's set that aside and dig into the main course.
The figures
With most LEGO sets, I tend to assemble the figures first. There's an order to these things after all, and I don't deviate from that in the slightest. Besides, the figures provide an almost immediate sense of accomplishment. Sure, all you have to do is snap a few parts together, but you do technically build them.
With Playmobil, there's little in the way of building though. Basically, all you have to do is snap on the optional parts and accessories, and that's it. The zombie that comes with the Skybike takes about three seconds to get up and shambling. He kind of is what he is, though he has a big eyeball that he can hold onto.
It's actually pretty awesome and vaguely resembles the modern version of Madball Oculus Orbis ("mouth" and all). His other eye (the one still in his head), is popped out of the socket and bulges from his noggin. Oh and he's this great blue color too, with green hair, really cool. The picture doesn't do it nearly enough justice.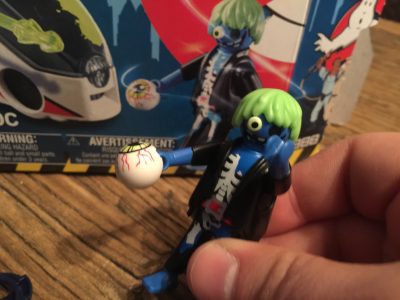 Ray, of course, has a little more to him.
Ray is the same base figure as the zombie, more or less. He's got 6 points of articulation with shoulders, wrists, neck, and a bend at the waist. Playmobil figures can not move their legs independently. All in all though, it's more than enough for a collector looking to make some cool displays with these stylized figures. Or, for that matter, a kid playing with them.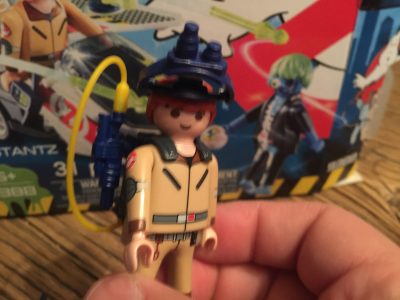 Dr. Stantz also has a clip on pair of ecto-goggles that actually flip up and down, which look great. Add to that a proton pack (that's a little tough to remove), a PKE meter, and a ghost trap that opens and closes and you've got a winner of a figure.
Taking to the skies
It's arguable whether or not its Ray Stantz or the Skybike that's the star of this set (sorry zombie), but the bike is definitely cool. It's remarkably full-featured, and could easily be a part of that aforementioned Kenner series of toys. Actually, I could easily see a kid fixing and matching this thing with a 3.75″ figure line. It'd fit right in.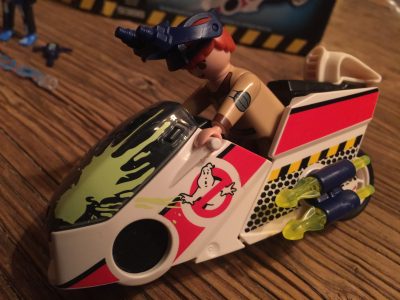 The bike is "smeared" with green slime on its windshield, and has some awesome looking Ghostbusters graphics all along its body. It's amazingly reminiscent of the classic line, but also of toys in general in the 80s/early 90s.
Toys back then were bold and over the top (in a good way). They weren't concerned with realism or being for adult collectors, and from what I see this line isn't either. It's just… fun, and there is absolutely nothing wrong with that.
The Skybike is also packed up with a few action features that add to that sense of fun. Four "flick" missiles are attached to the wings of the bike, that you can give a flick with your finger to launch. They're made of this neato, translucent green plastic too, that gives them a standout look.
Oh, and yeah, I said wings. This is the Skybike remember?
The side panels of the bike easily flip up to transform the motorcycle into a jet, MASK-style. Theres's nothing to the transformation, so it's not too difficult at all for kids to pull off, and quite frankly it looks awesome in "air mode".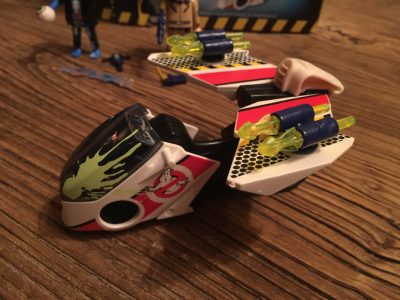 There are a few bells and whistles too, like with the rack mounted on the back for Ray's proton pack. The pack very easily clip onto that raised back piece, and pops off way easier than it does with the figure. Speaking of, Ray sits in the bike, and his hands clip onto the handlebars without much of a fuss.
The back wheels are also real rubber, which is always cool. It's becoming rarer and rarer in the toy world, and it's nice to see.
I can't speak to the quality of the rest of the line, but if this one is anything to go by then they're probably worth a look. I wasn't into these at all before Playmobil sent this sample over, but I kind of want all of them now.
And honestly, you probably will too.
The Real Ghostbusters Ray Stantz Skybike
Release date: April 2018
Company: Playmobil
Line: Ghostbusters
*This review is based upon a review sample supplied by Playmobil*
Ghostbusting in the sky
Lots of great Ghost-busting accessories - 96%
The Skybike is a great toy, oozing with nostalgia - 93%
I wish the figures were more poseable, but they're still great - 88%
The Real Ghostbusters sub-line is just getting going over at Playmobil, and it's already pretty terrific. The Skybike is a vehicle that immediately recalls the classic Ghostbusters vehicles from the property's Kenner days, and the figures included are tons of fun with some great accessories.