A five pack of Ghostbusting goodness? The One:12 Collective's latest is a five pack, including all four 'Busters and Slimer. And yes, it's finally available for pre-order.
Who you gonna call
This one's been cooking for a while. And I mean like, a while. It seems like years since Mezco announced that they'd be including the classic Ghostbusters in their excellent One:12 Collective line of action figures, and now they're finally here. Though, this arrival might not be quite what you had assumed.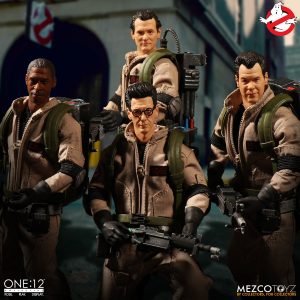 I don't think I'm alone in thinking that the Ghostbusters would be arriving in the line as separate figures, each in their own collector box. That was kind of hinted as not being the case though, and at this past Toy Fair it was confirmed that Peter, Ray, Egon, and Winston would be coming home as a set.
Now we have the full details on that set, and it's pretty impressive. Not only will fans get al four main characters, but they'll also receive a bevy of accessories (natch') four light-up proton packs, and Slimer too. Thats a nice little collections, and given the line's detail level, a centerpiece for anybody's GB set-up.
The set will start shipping out this year, in the October to December timeframe and will run you $300 USD.
Here are the particulars:
One:12 Collective body with over 28 points of articulation
Two (2) head portraits

Natural expression head
Scared expression head

Hand painted authentic detailing
Approximately 17cm tall

Peter Venkman ~16.6cm
Ray Stantz ~16.7cm
Egon Spengler ~16.9cm
Winston Zeddemore ~16.6cm

Six (6) interchangeable hands

One (1) pair of fists (L&R)
One (1) pair of posing hands (L&R)
One (1) pair of proton gun holding hands (L&R)
COSTUME:
Tailored uniform
Elbow pads (removable)
Utility belt
Work boots
ACCESSORIES:
One (1) proton pack with proton gun (batteries included)
One (1) walkie-talkie
CHARACTER-SPECIFIC ACCESSORIES:
Peter Venkman

Bacharach Sniffer 300
Utility belt with walkie-talkie pouch

Ray Stantz

Ghost trap with pedal
Ecto goggles
Utility belt with walkie-talkie & ghost trap pouch

Egon Spengler

PKE meter (with extendable arms)
Utility belt with walkie-talkie & PKE meter pouch

Winston Zeddemore

Slimer (with articulated arms)
Utility belt with walkie-talkie pouch
The One:12 Collective Ghostbusters figure is packaged in a deluxe metal tin, designed with collectors in mind. There are no twist ties for easy in-and-out of package display.