Dan Slott is out, and the team of Spencer and Ottley are in, as The Amazing Spider-Man swings into Marvel's latest revamp. After the FCBD preview issue, expect this one to join Captain America on stands they July.
"After his ten year run on the title, writer Dan Slott leave some big shoes to fill. But after reading what Nick Spencer has planned for our friendly neighborhood Spider-Man, I can assure you that the future of Peter Parker and his pals is in good hands," said editor-in-chief C.B. Cebulski. "This new #1, with jaw-dropping art by Ryan Ottley and Laura Martin, is not only a perfect jumping on point for new readers – it builds on everything Dan's been doing for the past ten years and seamlessly continues the adventures of everyone's favorite wall-crawler! Amazing Spider-Man is one of our flagships titles, steering the Marvel Universe in an exciting, new direction, perfect for readers new and old."
Does whatever a spider can
He might've been on the book for a decade, but Dan Slott hasn't had the smoothest of runs on Amazing. The biggest two storylines I remember from his time with the webbed wonder were the new clone saga and Superior.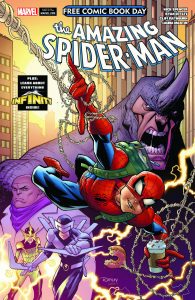 I'm a pretty big Spidey fan, and I can honestly say that I barely followed the former and the latter made me drop the book. Still, ten years is ten years, and that's impressive in and of itself.
To get that kind of time with a character, Slott must've caught on with more than a few fans. So I'm sure I'm in the minority with my opinion.
But whichever side of the fence you fall on, it's exciting to get a new creative team going. Ottley is a pretty great artist too, having been the artist on most of Image's Invincible. His style is easy to see working very well with Spidey.
As for Nick Spencer, I'm not as familiar with his work. He's got an impressive resume though, with Action Comics, Secret Avengers, and Superior Foes all under his belt. Good stuff there.
All in all, The Amazing Spider-Man #1 should be a book that wall-crawling fans can look forward to when it lands on the racks this coming July. If you can't wait that long though, don't sweat it. You'll be getting a taste of what's to come beforehand.
Spider-Man (the Amazing variety) will be joining Captain America in the pages of Marvel's Free Comic Book Day special. Watch for that on May the 5th.