An alternate history story of a different kind, Rome West explores what might have happened if Rome had colonized the Americas before Columbus.
Roman history
Usually when you're talking "alternate history", you're talking about something a little more modern. More or less these kinds of stories all seem to go to the same place – what if Germany won WWII.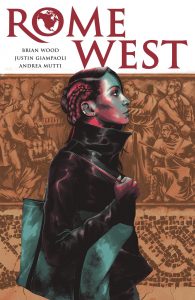 Not this one though. Nope, writers Brian Wood and Justin Giampaoli are bringing something a little different to Dark Horse. They've got artist Andrea Mutti on board for a story that begins in ancient Rome. The hook? Rome West brings the cultures of Rome and native America together.
When a lost armada of Roman soldiers arrives a thousand years before Columbus, they don't seek to conquer and exterminate, but instead set up a cooperative society with the indigenous peoples that radically alters the timeline of the Americas… and the rest of the world.

Fans of history, alt-history, and politically-relevant stories will be fascinated at the depth of detail and classic 'what-if' narrative.
A collection that originally was brought to fans by Stela, Rome West will be presented in graphic novel format. Watch for it this July the 4th, as it lands on racks just in time for US Independence Day.