The trip through Cullen Bunn and Tyler Crook's Harrow County is coming to a close. Expect the horror title to begin the end as of issue #29.
Harrowing
For some reason, I haven't been able to read Harrow County steadily. And that's even though I actually really like the book. Harrow is a horror comic, but it's one that doesn't really hit you in the face with blood and guts.
It's more inventive than that, and offers more of a disturbing and creeping sense of terror. The book has also spawned quite a few excellent characters and monsters, and because of all of the above it's managed to stay fresh and exciting.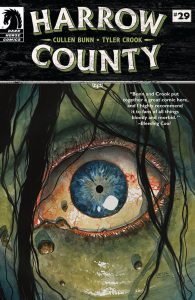 The question then might be why's it ending. Is it poor sales? According to co-creator Bunn, it's because this is the end that was always on the drawing boards (so to speak).
"Seeing Harrow County come to an end is bittersweet. I love this world. I love these characters. I love working with Tyler and Daniel and Dark Horse. And, if I'm being honest, we could probably continue Emmy's story indefinitely," says Cullen Bunn. "But we're moving toward the ending we've always planned. We've told a story I'm very proud of, and we told it on our own terms. And I think the series is all the better for it."

"I am so proud of what Cullen and I have been able to accomplish with Harrow County," says artist Tyler Crook. "When we first pitched the book I had no expectation that we would still be working on it 3 and a half years later. I'll miss going to Harrow County every day to work but I'm extremely grateful that we were able to tell the story that we wanted to tell.  While this may be the end of Emmy's story I doubt it'll be the last Harrow Countystory."
When can you expect to see the end? That kicks off on March 21st, with issue #29. This isn't a one-issue close though, it's an arc. In total it'll be four issues that end the storyline, which start with 29. So you'll get a little more of Emmy and cast before Harrow County heads off into the ether.