This past year was one filled with big moments and surprises, we present awards to the ones that impacted us the most today. But that's not all, as we also voted on the best in graphics, sound, and more.
A loaded 12 months
If you read part one of the 2017 BGA's, then you already know what a packed year it was. There were loads of good to great games hitting throughout, including more than a couple of surprises.
Today we look back at the best in graphics, innovation, sound and more, as well as highlight some of what we thought were the biggest stories that 2017 had to offer. This is just part two of three however, so don't forget to click back over to BG this coming Friday. That's when we'll be presenting the big platform-specific awards, as well as game and platform of the year. Don't miss it.
And while I'm reminding you of things, don't forget that we're posting editor's picks in separate posts all week long. There's more than a little content there, should you be looking to peruse.
As for today though, let's dive in with…
Most Innovative
So. This was, well it was a landslide. That does not though, mean that there wasn't a good deal of innovation to be had in 2017. Games like Injustice 2 brought the all-new gear system to the table, adding quite a bit to the standard fighting game formula. Super Mario Odyssey on the other hand, shook up the Mario formula in maybe the biggest way since Sunshine with its possession mechanic. Great stuff there.
But even so, there was one game that took the cake (and did all kinds of new things with it).
And our winner is:
The Legend of Zelda: Breath of the Wild was not only one of the most stylish, best playing games of the year, it was loaded with innovation too. The game took the Zelda franchise in a stunning new direction with a massive open world that contained brand new opportunities and activities.
Sure, you could drive through, and head towards Ganon like a heat-seeking missile, but why would you? Breath of the Wild allowed gamers to buy properties, cook their own food (giving themselves special buffs), and truly explore. While that might not be a new theme in Zelda, Breath allowed for it in broad and deep new ways. It's truly a game to get lost in, and one that keeps its world fresh at every turn.
Best Music and/or Voice Work
Kind of a forgotten category, above par music and voice acting can make a good game great. It can even add in so much that a game that might not be able to hold your attention otherwise, can seem fun.
Our nominees are:
Cuphead
Middle-earth: Shadow of Mordor
Persona 5
The Legend of Zelda: Breath of the Wild
Resident Evil VII
And the winner is:
A tie! Both Cuphead and Persona 5 tie for the gold!
These two couldn't be more different.
Persona 5 is a dark and mature role-playing game that offers haunting music and gritty (mostly) characters that are voiced beautifully by a full cast. And Cuphead? Well, the long-awaited Xbox One (and PC) title is a side-scroller fashioned in the form of a 1930's cartoon. There's no voice work really, but there is plenty go incredible music, all of which fits the theme of the game beautifully.
This, by the way, is Cuphead's third BGA win this year.
Best Graphics
Here we are at the one category that pretty much everyone is interested in, Best Graphics. Oh sure, you can say that graphics don't matter all you want, but really – who wants to play through a bad looking game?
This was an extremely hard award to sort this year too, since there was so much great-looking stuff this year. Well, it was hard to sort on paper anyway. In reality, two games grabbed all the votes.
That's right, another tie. The winners are Cuphead and Horizon Zero Dawn!
A PS4 exclusive, Horizon Zero Dawn is also pretty easily one of the best looking games of 2017. Set in a unique (no, really) post-apocalyptic future, HZD's vast universe and robotic wildlife made for a play through that few fans will be able to forget. It's a game that's firmly ensconced in the PS4's "must play" stable.
As for Cuphead, well what's left to say? That game is just flat-out awesome, and a good part of why is the way it looks. The visuals match the aforementioned sound design in replicating a 1930's cartoon. It looks like something that isn't playable, and the effect is amazing.
And now that's four wins for Cuphead, FYI.
Best Story
If you're playing one of the deeper and more complex games out there, then story is of the utmost import. It wasn't always that way of course, as previous eras saw very simple narratives that played out with little to nothing in the way of narrative or  character development. And dialog? Yeah, forget that.
That's very different now of course. The biggest blockbusters of the year usually have relatively deep stories, sometimes rivaling what you'll see at the local cineplex. And those are packed into our nominee list.
They are:
Resident Evil VII
Middle-earth: Shadow of War
Persona 5
Wolfenstein: The New Colossus
Hellblade
And the winner is:
A tie! Yep, we've got another tie for gold, with Shadow of War and Persona 5 matching votes for the top spot.
Speaking of deep and complex, Persona 5 is all of that. The game took JRPG fans by storm this year, bringing the beloved role-playing series back to consoles with a flourish. Highlighted by a mature storyline with plenty of humor thrown in, Persona 5 explores the lives of your average high-schoolers… who just happen to fight demons.
This is Persona 5's second win of the year.
The original game in the Middle-earth series brought Lord of the Rings fans a new hero with Talion. A ranger merged with an ancient wraith, the Gondorian is now on to bigger and better things in this sequel. Namely, he's aiming at taking Mordor by storm and stopping the dark lord Sauron before he can get a foothold in Middle-earth once again.
Shadow of War's main story is expansive, and loaded with cool nods to the films. But that's not all. The nemesis system returns in this entry, bigger and badder as well. That translates to a massive number of "mini-stories" that pop up organically, as Talion makes new allies and enemies in his own little war of the rings.
The second Middle-earth game is one that presents a tale fitting of its license.
Best Multiplayer
Multiplayer gaming accounts for a good chunk of the industry in this age. What started out as a tacked-on mode for some PC games, has almost eclipsed single player affairs. I say "almost", but multiplayer was arguably a much bigger deal than solo play for several years. Actually, till very recently. And that stretch lasted a few years too, so this isn't a flash in the pan.
In terms of examples of the "genre", 2017 was a pretty sharp year.
The nominees are:
Splatoon 2
Star Wars Battlefront II
Call of Duty: WWII
Ghost Recon: Wildlands
Doom (Switch)
And the winner is:
Splatoon 2 was the marquee Switch title for the summer, and held the line for the console. It was really the perfect game for that too, as it's as kid friendly as a shooter can be and perfectly planted to take advantage of summer vacation.
While the game did offer a single player mode, the multiplayer was really where it was at. Fast, fun, and with eye-candy to spare, Splatoon 2 didn't reinvent the wheel from the original Wii U game. What it did though, was refine it and pack it into a semi-portable package. And that's hard to beat.
Biggest Surprise
As usual, there were a few big shocks this past year. There were a few though, that don't really seem like they should have been too surprising given the way the calendar turned out.
We chose between a few big stories for the "winner" of this category. Those stories include Sega's Sonic Mania bering the revelation that it was, and Cuphead both finally appearing and being as great as it was. Fun stuff.
But, in a landslide, our pick as the biggest surprise of the year is the rampant popularity of the Switch.
Nintendo's Switch finally makes good after a generation lost on the Wii U. Coming out of the gates like a juggernaut, the Switch has sold almost 5 million units at this point, and is one of the fastest selling consoles of all time. I don't know if it should ever be a shock that a Nintendo system is popular, but the Switch breaking the kinds of sales records that it has is a little surprising.
The Wii U was such a monster dud after all. And it wouldn't have been too much of a stretch to think that there might've been at least a slight lack of confidence from the consumer base. But that was most decidedly not the case as fans have taken to the Switch like nobody's business.
Part of that is the unique nature of the system. Having a true home/away console is more than a novelty or "gimmick", it's kind of a game changer. I know it's been far and away my most-used console this past year, and I don't see that changing anytime soon.
Welcome back Nintendo.
Biggest Letdown
It's always fun to look back and see what the most fun surprise of the past year was, and the Switch was a big one. But honestly, it's also kind of fun to look back on the biggest disappointment. Yes, it might be a little morbid, but it can bring a smile to the face regardless.
This year too, these two categories have something in common. Much like our Biggest Surprise, the Biggest Letdown involves Nintendo. Actually, so did the runner up.
We were looking at naming the lack of a new F-Zero as the biggest letdown of 2017. After all, we have a few big fans of the series here at BG, and it was rumored for a while there that a new one was coming. While that wasn't to be, what we actually settled on is arguably a much bigger disappointment.
Our "winner": The Virtual Console is a no-show on Switch.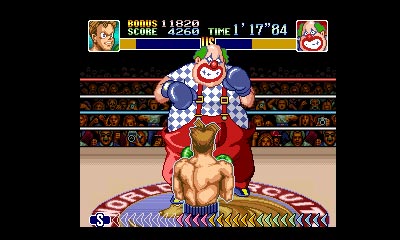 Is that a big deal to you? It was to us. Overwhelmingly, the lack of a VC won this final category of the day, and for good reason. The Virtual Console was a mainstay for two Nintendo generations of console, and offered a portal to play tons of old games from the NES, SNES, and other classic consoles.
Sure, these weren't free or anything, you had to buy them, but they were nostalgic fun – and also a relatively cheap way to keep enjoying your console between big game releases.
It was also heavily rumored that there was indeed to be a VC on the Switch, but here we are almost to month 11 of its life, and there's still no oldies in sight. For me, that was a huge bummer, since I had planned on playing Virtual Console titles on my Switch over the summer. It's less important now for me, but that doesn't mean I still don't want one.
And apparently, the rest of the staff does too. So, you're move Nintendo.
__
That brings part 2 of the Brutal Gamer Awards to a close.
We'll be wrapping things up on Friday, as we dive into the best games on each of the platforms, as well as the overall awards for best game and best platform of 2017. Again though, don't forget that in the meantime you can check out all the posts from our writers and editors, as they run down their personal picks!