DC Comics' number one hired gun (sorry Deadshot) gets a One:12 Collective figure from Mezco. You're not going to want to miss this one, as this is one figure that hits its target.
Slade Wilson
Say that name above, and most people who don't really follow comics might think it's wrong. They probably will be reminded of Wade Wilson – Deadpool. He's blown up in the last few years, in both comics and movies. Actually, there's a Deadpool flick heading to theaters in just a few weeks.
But truthfully, Marvel's "merc with a mouth" was heavily inspired by someone else. Of course, I'm talking about DC Comics' Slade Wilson. Otherwise known as Deathstroke, Slade has been a very bad man for a very long time.
Originally a straight up super villain, Slade has softened a bit over the years. He's still incredibly dangerous and a stone cold killer, but he's also morphed into something of an anti-hero.
That was more true of the New52 version of him than the Rebirth edition, but you get the point. Slade has the capacity for some heroic deeds, but he'd still just rather get paid. And much like Deadpool, he just might be about to hit it big too.
Slade appeared in Justice League this past autumn, and will possibly be the main heavy in The Batman, DC's solo "DCEU" Batman film. So, he's a pretty big character who might be about to get even bigger.
So with that in mind, it's probably a good thing that he's gotten one of the best figures in the One:12 Collective thus far.
Killer sculpt
Just a brief mention for the packaging here, because it's pretty striking. I really dig the Deathstroke "logo" on the cover. Though I also have to add that this is the new box-type for the One:12, so there's no fold-out panel. Bummer.
Then again, that's the one sorta negative thing I have to say about Slade here, so that's pretty good in the long run.
The articulation is as great as every other One:12 figure too, and the body type is perfect. He looks substantial. Deathstroke is not too thin and not too bulky. And that's even with his armor (more on that in a second).
He's also packing some excellent accessories.
It's not exactly a tidal-wave of extras, but Slade has three pairs of hands, his signature sword, and both a pistol and a rifle. The firearms also have removable clips, which I always find incredibly cool.
As for the face sculpts, you get two here. The head with the helmet is freaking awesome, and detailed to the extreme. You might not be able to see it all that well in the pictures (sorry about the darkness there), but the Deathstroke helm is weathered and sports signs of heavy wear. Perfect for the character.
The second head is Slade revealed, and also looks terrific. Slade sports a stoic expression here, which is fitting for him, he's not the type to show much emotion. His age comes across well too, and the patch completes his look nicely – and no, it's not removable.
Paramilitary villain
Continuing the near-perfection here is the uniform. This isn't really a look that you'd know from anywhere in particular, it's an amalgam, which is typical for the One:12. The only thing that's accurate for any version of him is the color scheme.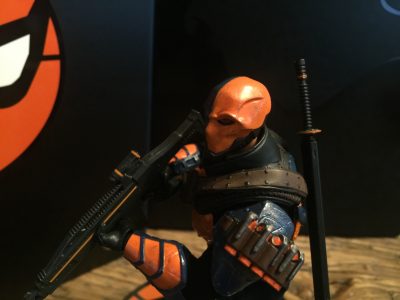 Deathstroke is decked out in navy and orange, and plenty of armored pieces. He's a merc after all, and one without a healing factor. Don't feel too bad for him though, since he's gifted with an ability to "read" situations and the combat skills any opponent. Still, he can't exactly take too many bullets.
Slade has a set of armored boots, gauntlets, shoulder pads, and chest plating. He's also got a really cool-looking collar that gives his outfit a nice "military" look. It's pretty much all weathered like his helm too, so it carries that look across.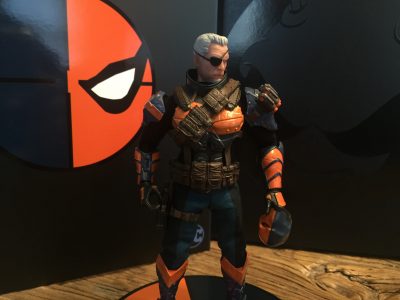 There's also a strap over his shoulder that you can peg his rifle into, a sheath for his blade, and a holster for his pistol. 'Stroke has a set of grenades on his shoulder armor too, though they're not removable. That's kind of a disappointment.
One very minor thing too, that I thought was very cool, was the choice to not have a covering on his neck. This makes his unmasked head look much more natural, and gives a very cool look to him when he does have his mask in place.
Oh, by the way, that mask isn't removable. It's actually just a second head that you can pop on and off. I know it doesn't look that way in the pictures, but it is. Not that that's a knock or anything.
Nope, I actually can't find anything to really pick on about this one. Sure there are a few little things, but overall this is one incredibly cool figure.
Deathstroke
Release Date: December 2017
Produced by: Mezco Toyz
Line: One:12 Collective
Another excellent One:12 figure
Tops in articulation. Action figures don't get better - 95%
Not a pile of accessories, but what's there is great - 89%
Flat-out great sculpt and detailing - 98%
There isn't a finer representation out there of DC Comics' Deathstroke, and I feel very comfortable saying that. Everything about this figure is cool, from his weathered armor and helmet, to his well-chosen accessories. As usual, the poseability and costume detailing is above reproach too. The One:12 keeps on rolling.