Looks like EA has heard Star Wars fans loud and clear. The microtransactions that aggravated almost everybody in Star Wars Battlefront are gone. Maybe.
So, before we get into anything here, have a peek at the Tweet that EA sent out about Battlefront II.
Today, we turned off in-game purchases for #StarWarsBattlefrontII. The game is built on your input, and it will continue to evolve and grow. Read the full update: https://t.co/asGASaYXVppic.twitter.com/vQSOmsWRgk

— EAStarWars (@EAStarWars) November 17, 2017
That sentiment was accompanied by the "official" image below.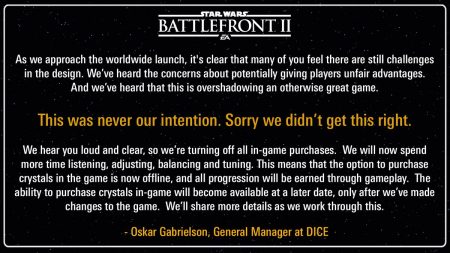 The Dark Side… and the Light
So what's all that mean? Well, in short, it means that the microtransactions that everybody hated are gone. They've been removed from Star Wars Battlefront II so that enhancements and hero characters can't be purchased with real-world money.
The former is a strategy that quite a few mobile games take, and it's honestly still pretty controversial in that arena. To have MC's to this level in a huge game like this though? That didn't fly in the least with fans.
I mean, we're not talking about cosmetics here, like different outfits or something. We're talking about actual big in-game stuff that affects gameplay.
While it's true that you could technically unlock all the stuff that you wanted by playing, it would have taken you a long period of real-world time to do so. And with that kind of grinding, paying to open things up for you would become all that much more attractive. Obviously, that might have been the plan.
Now though, things are a little simpler, but also a little more up in the air.
Progression at present
What Battlefront II is offering now, in contrast to the model above, is to only unlock extras through playing. This is basically what gamers were asking for, but probably not to the level.
I could be wrong, but it doesn't really sound like the progression has been eased any. That means that players will have to grind away just as before, to unlock their favorite hero. Basically, the option to pay for those characters has simply been removed.
But it won't stay that way.
EA also says that in-game purchasing will return, but in a presumably different form. We have no idea what that might mean, but likely EA will just rework the costs. Hopefully it also means that the company will take a look at a more organic system of unlocking in-game stuff too, and overhaul that.
I'm sure there aren't too many gamers who'd be angered if the unlock process wasn't all that difficult and a system of payment was included for those who don't want to be bothered.
Whatever happens, it's pretty cool that a company like EA was forced to act because of fan outrage. And it shows that people can make a difference by actually saying that something is unacceptable.