As we wrap up the quarter mark on the season, the first episodes have been filled with a lot of violence and action, with a little help from a guy to show the losses war can cause.
I am sure that the show has had more to it than I am giving it credit for, but I also want to point out that I expected this arc, "All Out War," to be more cohesive than it is. As it stands, I have no idea how they stretch this war to a full 16 episodes.
A tale of two allies:
The majority of this episode follows Ezekiel (Khary Payton) and Carol (Melissa McBride). The two face very different journeys, however.
The episode picks up with Ezekiel crawling from under the bodies of his allies. When we last saw him, a bomb went off. We were left not knowing the fallout, but we get a pretty good idea here. There are arms blown off, people have been disemboweled, it isn't a pretty sight. King Zeke's ankle is torn up pretty badly, and he can barely walk. All the while, bodies around him are reanimating. He crawls away and appears to be getting himself out of trouble when he comes across another *well* subject from the kindgom.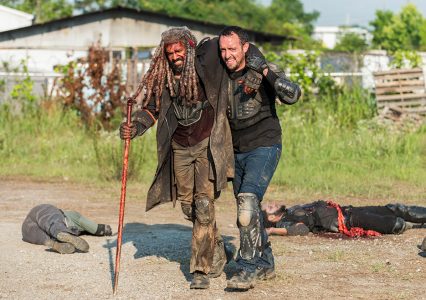 This second party gives Ezekiel some much needed backup, but right as the two are about to make their getaway, the second party is shot and killed by some low level guy from the Saviors.
This man takes Ezekiel captive and the two make some headway in traveling. All the while, this guy berates Ezekiel for having dillusions of grandeur, for fancying himself a king. This flips a switch in Ezekiel's head, but we don't find that out until a bit later.
The two come across a locked gate, with other Saviors inside. With walkers approaching, the guy throws a jacket over the barbed wire on the fence and starts to raise his gun to finish off Zeke. At the last moment: Jerry! (Cooper Andrews) cuts the grunt in half with his battle axe. Metal!
Jerry sets to breking the chain locking the gate as the walkers approach. The two are surely to be overwhelmed.
Meanwhile, Carol is behind the very fence that Ezekiel and Jerry are trying to break through. If you remember, Carol struck out on her own to capture the heavy machine gun before the bomb crippled the kingdom's forces.
Carol is inside a building and shoots up a few of the saviors loading up the machine gun. Before she can make a move, more saviors are alerted to her presence and descend on her. This leads to a gunfight outside. Carol feigns weak and uses it to get leverage on her attackers. This feint, along with the walkers making their way in to the arena, give Carol a fighting chance.
The scene culminates in Carol noticing Zeke and Jerry, and choosing to help them with their walker issue. The men escape with the heavy machine gun. Carol knows (somehow? I guess I missed something) that Rick and Daryll are hot on their heels. We get a quick car chase, and Rick (Andrew Lincoln) and Daryll (Norman Reedus) are successful in retrieving the machine gun.
Meanwhile, we see a flashback to Ezekiel telling Carol about how he saved Shiva. This seems like a minor out of place anecdote, but, well..
The next scene places Carol, Ezekiel and Jerry in a ditch traveling back towards home. They get surrounded by walkers, and what do you know, things don't look good. At the last minute, Shiva jumps out and distracts the walkers, taking a number of them with her. The walkers devour our tiger pal. Ezekiel is a mess.
Throughout the whole episode, we get the theme that Ezekiel is done wth illusions of grandeur. He twlls Jerry multiple times to stop calling him king. This culminates when Ezekiel loses his truest friend and ally.
My thoughts:
For an episode all about war in a season all about war, "Some guy" does a good job of showing the toll such a conflict takes. Khary Payton had some incredible acting in this episode. By the end, I really felt for him.
There is not much else for me to say. While watching, I thought that the pace of the episode was kind of janky and slow, but looking back on it now, I find myself liking the episode more and more.
I am very sad at the loss of Shiva. Just like any pet, she was rad. She might not have fit in with the tone of the show, but looking at that car chase scene, we are basically watching a show about super heros.  The tiger was fine.