The latest Loot Gaming offering from Loot Crate goes big on "augmented" sci-fi with goodies from Destiny, Prey, and more.
October gaming
Augment is the word of the month, and there's plenty of properties in this Loot Crate that that applies to. The recently released Prey reboot, Borderlands, and Destiny all feature upgradable characters. I can't help but be a little disappointed though, that this isn't a horror crate.
It's October, and that means Halloween, as well as horror. This is usually the month that everything out there has a spooky theme, but now so here. And I think, unless I'm mistaken, that there already was an "augment" crate at one point too, so… yeah.
Nevertheless, this is a Loot Gaming installment labeled Augment. So let's dig in.
Don't fight your way through Prey thirsty
Prey isn't the first thing I'd be thinking of when imagining a water bottle, but I actually like this a lot. Number one, because I actually use water bottles quite a bit, but also because it looks neat and I dig Prey overall. Not that I'm crazy about the reboot, but it's cool to have something (anything) "Prey". It's BPA-free too, which is nice. I always prefer my water to not be poisoned.
I could also easily picture this on board the game's space station. Just be careful. As Loot Gaming points out on the poster included in the box, if you see two of these next to each other, one might be a Mimic.
The bot who launched Destiny 2, Cayde-6
Okay so, full honesty here, I don't know if Cayde-6 is a robot. I don't really like Destiny at all, and all I really know about "him" is that he's voiced by Nathan Fillion. Well, that and that he was in the jokey reveal trailer for Destiny 2.
Anyway, here's a little SD figure of him. Or… it.
Cool pins!
For that matter, I'm not a Borderlands fan either (man this crate really wasn't for me). I do have to say though, this pin/patch set from Gearbox' series is actually kind of rad. I'm also digging the pin of the month, which bears a Destiny design.
More Destiny (yay)
Well, still not a fan, but this Destiny tee is also pretty cool. Man, is there a lot of "Destiny" in this crate or is it me?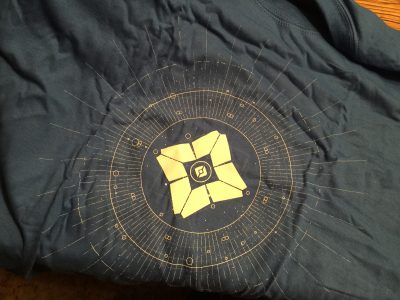 And a poster to round it all out
The included poster this month features… Destiny 2. Yow, that is a load and a half of Destiny. As usual, on the flip side of the image, you'll find all of the descriptions of what was in the box. I've actually found this handy at times, since not every property is obvious, especially if you're not an existing fan.
All in all though, this just was not my month in Loot Gaming. I don't count myself a fan of any of the included properties (unless you count Prey). I will admit though, that everything is well done, typical for an LC pack. And I really do like the tee and the water bottle quite a bit, if just for their imagery.
So, what'd you think?