One of the highlights of EGX every year is arguable the Leftfield Collection, which features a selection of intriguing games and experiences that otherwise might not get much attention.  Probably the most enjoyable and interesting game I played in that section is Brute.
Brute is the first game created by MGFM aka sound designer Michael Manning, who had previously worked on the likes of Signal From Tölva, Rogue System, MirrorMoon EP.  The aim of the game is to manoeuvre your craft through a series of levels, while trying to avoid enemy fire, take said enemies down and get to the exit.  You move your craft around by firing up the engine, but you have to be very careful because the craft is very floaty and using too much power will make it difficult to stop quickly or turn around.  You also have a limited amount of fuel to get to the exit with, so you have to be careful when you use your engine.  On some levels, you'll be able to get some fuel pickups as you go around, but that still doesn't make it easy.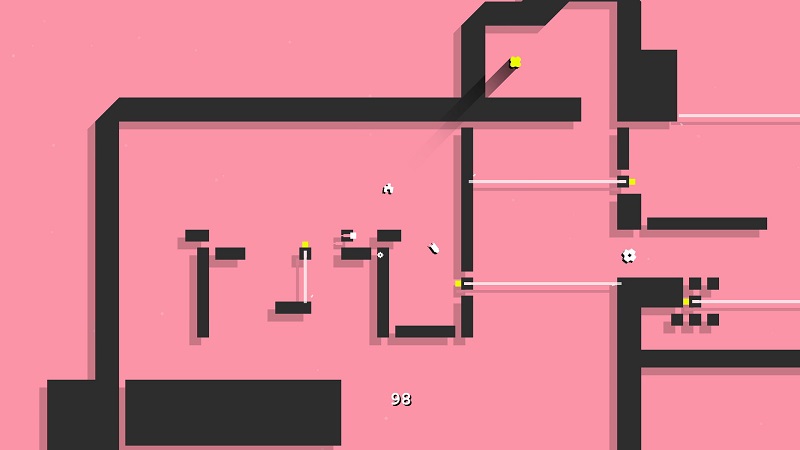 You don't have to destroy enemy craft in order to get around, but given how they spray bullets all over the shop, it's highly recommended you do.  As you advance through levels, new options will be available to you, such as barriers you can open and close to trap enemies, or you can use them to bounce bullets around corners to take things out.  A lot of the gameplay in Brute involves being able to come up with strategies quickly on the fly, especially when the walls are closing in and bullets are flying everywhere.  The levels might be fairly short, but by no means are they easy.
The look of the game is very sharp too, with a minimalist but functional style, with bright contrasting colours that change every time you complete a level or die trying.  This contrast has an added bonus of making it easier for people who are colourblind to tell things apart, which is an really good feature.
Brute is a fun and challenging game to play, and with around 100 levels in total, there's plenty to keep you interested.  The game is available to buy right now through Steam and Itchio.