One massive Hyrulian tome is on the way from Dark Horse. Get ready for The Legend of Zelda Encyclopedia.
Back to Hyrule
The Legend of Zelda Encyclopedia marks Dark Horse's third time publishing a book based on the classic Nintendo franchise. How's their track record? Well basically, the first two, Hyrule Historia and Art & Artifacts, were pretty much instant classics. So yeah.
But Dark Horse has an excellent record with books based in fictional worlds in general, not just LoZ-branded ones. And they've done plenty of them based on video games. There are few companies that do it better, and that's coming from someone who has more than a couple.
So what's the deal with this one, and why did we need a third Legend of Zelda tome? From the sound of it, this one's the capper. Apparently, the three books form what Dark Horse is calling The Goddess Collection. And all three serve a distinct purpose.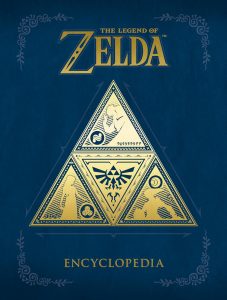 Hyrule Historia is all about the lore of the Zelda universe. Art & Artifacts on the other hand, centers its gaze on the art and design of it all. Then there's the Encyclopedia, which is exactly what you think it is- a reference book.
The Legend of Zelda Encyclopedia follows the series right from the first game through the Twilight Princess, and presents a handy guide to everything in between.
The Legend of Zelda Encyclopedia is a 320-page exhaustive guide to The Legend of Zelda franchise from the original The Legend of Zelda to The Legend of Zelda™: Twilight Princess HD. The guide describes enemies and items, potions and poes, an expansion of the lore touched upon in the 2013 smash-hit Hyrule Historia, concept art, screencaps, maps, main characters and how they relate, languages, and much, much more, including an exclusive interview with Series Producer, Eiji Aonuma! The Legend of Zelda Encyclopedia, the last of The Goddess Collection trilogy, which includes Hyrule Historia and Art & Artifacts, is a treasure trove of explanations and information about every aspect of The Legend of Zelda universe!
If you're a big Legend of Zelda fan, that's kind of hard to say no to. Expect to see The Legend of Zelda Encyclopedia appear on shelves on April 24th, 2018 (according to Amazon).
Preorder it on Amazon, Barnes & Noble, Things From Another World, or your local comic shop.