Mezco Toyz' One:12 Collection keeps on rolling, as another exclusive joins its ranks. This time, it's the villainous Red Skull in his vintage togs.
The Red Skull of evil
We just reported yesterday that a yellow and blue Wolverine would be joining the One:12 Collection as an NYCC (and internet) exclusive. And now here we are a day later with yet another One:12 figure that you're probably going to want to add to your collection.
This time, Mezco is offering a villain in the form of the original Red Skull. As with Wolverine, we're actually already getting a figure of Skully, though it's a markedly different one than this.
The Red Skull that's been waiting in the wings (scheduled to ship this fall also) is dressed in a more modern style. That's the one with the long "leather" coat. This one, as you can see, actually mimic's the character's first appearance look, as seen in classic Cap comics.
He's decked out in a Hydra-green jumpsuit, which is fits with what the villain wore in his early days. He's also loaded with accessories, same as the "modern", standard release version.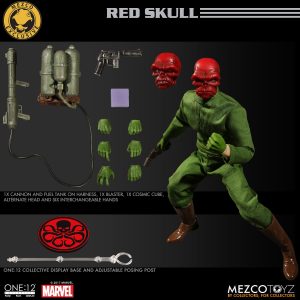 The fall exclusive Skull is available for pre-order right now on Mezco's webstore, and will also be at their booth at NYCC. You can find him in person this October at booth #1954. If you really want to make sure you'll get one though, I'd recommend going the we route. Exclusives at Comic Cons tend to sell out quick. And as Mezco points out, once the allotment is gone, it's gone.
Here's what's in the box:
•  Two (2) Detailed head portraits

•  One:12 Collective body with  over 30 points of articulation

•  Classic green jumpsuit

•  Hand painted authentic detailing

•  Over 16cm tall

•  Six (6) interchangeable hands including

– One (1) pair of fists (L & R)

– One (1) pair of  gun/ cannon holding hands (L & R)

– One (1) Cosmic Cube holding hand (R)

– One (1) posing hand (L)

Costume:

Classic green jumpsuit
Harness for fuel tanks
Sculpted belt with blaster holder
Sculpted boots

Accessories:

• One (1) Cosmic cube
•  One (1) Blaster
•  One (1) Blaster holster (attaches to belt)
• One (1) cannon
• One (1) Cannon fuel tank (attaches via hose to cannon)
• One (1) Harness (holds fuel tank)

•  One (1) One:12 Collective display base with logo

•  One (1) One:12 Collective adjustable display post

Each One:12 Collective Red Skull Fall Exclusive figure is packaged in a  collector friendly box, designed with collectors in mind, there are no twist ties for easy in and out of package display.