I love art books for a number of reasons. Not only can they inspire artists, but they're also collectible items for fans. The Art of Splatoon hits both marks.
A Pop of Colour on Every Page
The Art Of Splatoon captures the essence of the poppy Nintendo series mainly through colour. That's fitting given the theme, and the seemingly natural application of a property like this to an art book.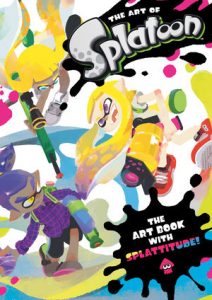 Throughout, you'll be treated to some shockingly in-depth imagery from the original game. Splatoon might feel like it has a simple look, but as you'll see here, there's plenty going on. In fact, the use of intricate detail and showcasing of artistic techniques above average for an art book. It is most appreciated as a fan too. Even if you're someone who just likes to see how a game goes from concept to retail, I think you should find plenty to like here.
The book uses all of the above elements in smart and creative ways that kept me engaged throughout.
Composition Creates an Eye-Catching Presentation
In addition, The Art Of Splatoon uses composition to its advantage. The layout of the book is organized and allowed artists to keep their creativity alive.
The concept art is actually what I loved the most. I was taken in by the sketches, and gawking at a single page for minutes on end wasn't out of the question. And the information about the day-glo ink coated pictures is delivered in a humorous fashion; always nice.
As someone who hasn't played the game, this was a way to get familiar with the world that Nintendo has crafted, while having a few laughs along the way. Towards the end of the book, you even get a nice little comic that spans the last few pages.
The Art of Splatoon
Release Date: July 11th, 2017
Format: Art Book
Publisher: Dark Horse Comics
Art of Splatoon
Content - 82%
Creativity - 83%
I appreciate the time and care that went into creating The Art of Splatoon. Dark Horse knows how to produce a quality art book, and it shows here. When people have this much dedication, you get a product that fans and the company can be proud of. Great to use for inspiration and to collect!