The last game in Tekken's Mishima saga is here. Bandai Namco tried a lot with this one, and the result is a bit mixed (but more good than bad).
Tekken returns
It's been a long road for Tekken, and the Mishima family on whom it centers. The fighting game franchise first dawned on the PSOne way back in 1994 and introduced players to the likes of Kazuya, Nina, and Heihachi.
It was also one of the very first titles that I played on my import PlayStation. To put it mildly, it knocked my socks off. A few friends and I played the game to death and then some. Tekken easily overshadowed everything else that saw release in that launch window.
After that, Tekken 2 and 3 were also favorites, and then I kind of dropped out of the series. Well, save for Tag Tournament, which was great too. I didn't have much interest though, in the main game. The storyline got old, and the fighting was more of the same, every time out. For some series', like Street Fighter and Mortal Kombat, I'm fine with that, but for Tekken… for some reason I wasn't.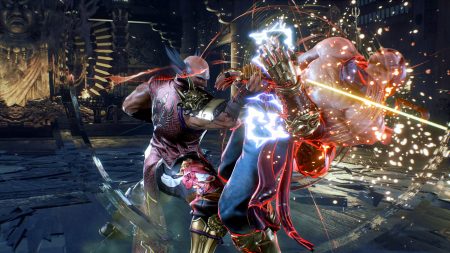 Enter Tekken 7, and there was a renewed interest. And I don't mean just from me personally, as more than a couple of Tekken fans that I know have been chomping at the bit to play. So now that it's out and available, was it worth the wait?
The Tekken you remember
Tekken 7 is Tekken, through and through. It feels very much like the classic entries. Now that said, the fighting is smooth and chaining together combos is both fun and rewarding. You can deal some massive amounts of damage to your opponent, especially if you hit the right moves.
Combat is splashy too, with plenty of major strikes coming off as very easy to execute. Not that the game is a cakewalk, or a cheese-fest mind you. I'm pretty sure that it was intended to convey a sense that every strike is major, and Tekken 7 does that very well.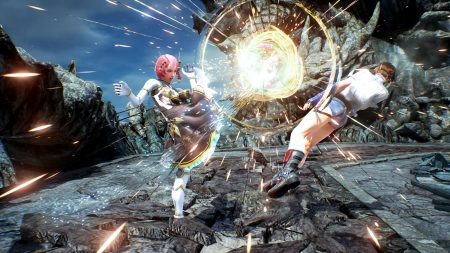 One new addition (I think, I haven't played in a while remember) is the Rage meter. Once built up, you can unleash a special move that wreaks even more havoc. It's more like the Super Combos of the Street Fighter series than say, a Fatality. From the moves I've seen though, they all look pretty cool and a few of them are fairly interesting.
It tosses in a cool little updating to the Tekken formula too, and an added factor in a match. As with the aforementioned Super Combos though, if your opponent blocks your Rage move, well that's kind of it.
I should probably also mention that T7 is loaded with fighters. I think every fighter from any Tekken is present and accounted for here, including a few new ones – and Street Fighter's Akuma as well.
The look and sound of battle
Graphics-wise, Tekken 7 is awesome. It's extremely hard for me to find fault with the game's graphics, because honestly they're pretty fantastic. I will say that sometimes the cut-scenes look a little off, as Heihachi in a suit looks a little… off.
Other than that though, everything is great, from the characters to the stages that they face off in. I'd probably have liked the fighters to have been a little bigger on-screen, but that's about it. All of the above is finely detailed and a treat to watch, and the special moves (complete with signature Tekken fireworks) look great.
As for the sound, it's good. I guess. The music is solid (if forgettable), and the in-match sounds are just fine, but the voice acting – oh lord the voice acting. I mean, ouch.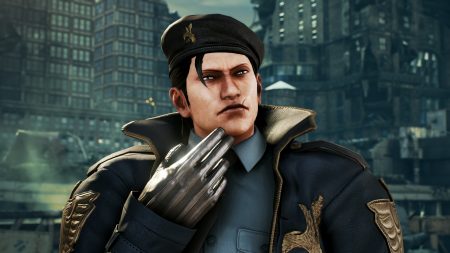 The Japanese VO (of which there is quite a bit) is pretty good, so I can't kill it across the boards, but the english is terrible. I'm sure that has something to do with the script, but there's one character in particular who's brutal beyond belief. It's a fairly large role too, and you hear this voice often. I won't spoil it, but his monotone delivery isn't kind to the ear. At all.
And while I mention the script, let's talk story.
Too much of a story?
The Tekken team must have been watching NetherRealm and taking notes (much like Capcom, I assume). Story is a way bigger part of Tekken 7 than I remember. And I'm not talking about a few cutscenes, the single player campaign has heavy story components all over the place, filled with voice acting.
How can I put this? There was a lot attempted here in that direction. A lot. And it's clear that Bandai Namco put a lot of work into it and took things seriously in that regard. Thing is, it's not good.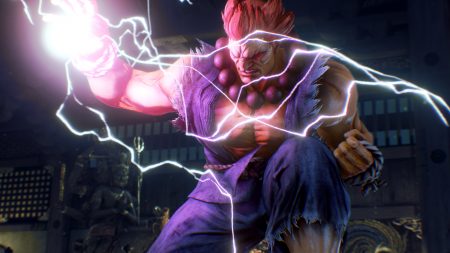 The story is pretty weak in terms of narrative, and the script is downright horrible. Then there's Captain Monotone, mix him in and the result is barely standable. I know what you're probably saying, "it's a fighting game, who cares?" – and you're right. I'm not going to ding T7 too much here over these issues, since they're effectively gravy.
And really, who's going to complain when you have a fighting game that's as great as this one is otherwise?
Tekken 7
Release Date: June 2nd, 2017
Platform(s): Xbox One, PS4
Publisher: Bandai Namco
Developer: Bandai Namco
The King
Gorgeous graphics that are some of the best in any fighter - 95%
Mixed iffy voice acting, and decent music - 70%
Excellent fighting that feels great - 96%
Tekken 7 is a mix in terms of presentation, with some iffy story points, a lousy script for the campaign, and at-times awful voice acting. Now throw all of that out of the window, because it's also got one of the most fun fighting engines around, and a cast of characters that rivals almost any other fighter out there. I love a good story to a game (even a fighting game), but when the actual fighting is as good as it is here, you don't really need one.