Call of Duty: Black Ops III is receiving the best possible DLC pack, if you're a fan of the zombies gameplay, that is.
The pack, appropriately titled "Zombie Chronicles" promises to bring eight of the most beloved, popular and classic zombie packs from Call of Duty: World at War, Black Ops and Black Ops II. The press release for the pack mentions that players will be able to re-live the storyline from the origin of the zombie outbreaks.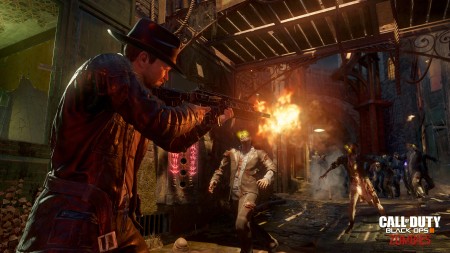 The pack, which releases on May 16 for Playstation 4, includes Nacht der Untoten (Abandoned Bunker), Verruckt (Wittenau Sanitorium) and Shi No Numa (Jungle Swamp) from World at War; Kino Der Toten (Theater of the Dead), Ascension (Soviet Cosmodrome), Shangri-la (Exotic Jungle Shrine) and Moon (Lunar Base) from Black Ops; and Origins (WWI France) from Black Ops II.
The release date kicks off an eight day celebration titled "8 Days of the Undead," where players will be able to earn double experience, take part in community challenges, a new theme and more.
The digital pack also comes with 20 vials of liquid divinium, two new whimsical Gobble Gums, new weapon camo, and a dynamic theme for Playstation 4.
Zombies Chronicles is really about the community that made Zombies what it has become today," said Jason Blundell, Co-Studio Head at Treyarch. "Together, we've been slaying the undead for nearly ten years, across different game consoles, and Zombies Chronicles is really about bringing all of those fans together. If you played these maps before on previous consoles, you're getting a new, stunning and challenging experience – if it's your first time, this is eight definitive experiences of our Zombies storyline, all in one place," he said.