Comic book publisher Dynamite has been making quite the name for itself with art books. Their latest, featuring Street Fighter, is almost ready for round one.
Fight!
Around for ages, Capcom's Street Fighter series is ripe with awesome art and designs. There are no shortage of art books out there dedicated to it either, though this one is a little different. Instead of focusing on artist's pieces, Dynamite's upcoming book will delve into something a little different. "The art, design, gameplay, and storytelling behind Street Fighter, as well as the series' impact on popular culture and game design" will be the focus.
That's a pretty broad swath of content. Though it looks like Dynamite has a handle on it. Then again, that probably shouldn't be a surprise. Not if you know anything about their Atari books that were released not all that long ago.  Excellent books in their own rights, Art of Atari and Art of Atari Poster Collection were pretty epic. Both were loaded with artwork and a myriad of detail about the former gaming giant. Cool stuff indeed for Atari fans, and also gamers who love their gaming history.
But back to Street Fighter, 'cause this one looks pretty epic. Have gander at an interior selection.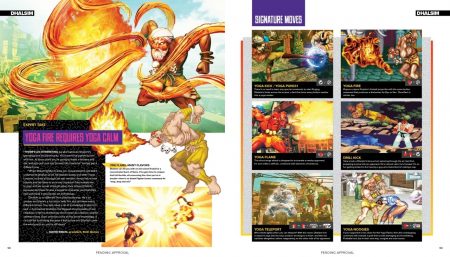 From the creators:
Editor Tim Lapetino says, "Creating Art of Atari was a great experience in connecting with video game fans across the world. The book's popularity showed us the hunger fans have for deep dives into their favorite classic games beyond just nostalgia. We want to tell the stories behind the games. Art of Atari was the launchpad for this series, and we're excited to dig deeper into the creativity, design, and stories that power the beloved Street Fighter franchise this time."

Rich Young, Director of Business Development at Dynamite, says, "I still remember watching battle after battle at the local arcade on the Street Fighter II machine, amazed not only by how awesome these characters were, and how great the game looked and played, but also how good the players were, and how much effort they put into winning each match. Street Fighter helped pave the way for the fighting game genre… and it's still going very strong today. I'm thrilled to be working with Capcom on this book, and the same amazing team that put together Art of Atari!"
In all, the book will some 300 pages, and looks pretty fantastic from the preview pages below. Expect it to hit stores some time this October.