Icon Heroes' newest DC Comics collectible plays off of the popular CW The Flash TV show. And it's just the first in what's to be a shiny new line of busts.
The Fastest Man Alive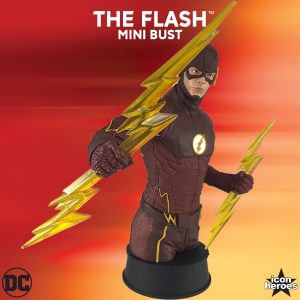 This being a bust that we're talking about, Flash kind of has no legs here. You might think that'd be antithetical to the character, but it actually works. His unique set of super-powers come across quit nicely, since he's wielding a pair of Speed Force lightning bolts. And it results in a pretty slick look for the hero.
Barry here is also the first in what's to be a fresh series of busts from Icon Heroes. And all of them will be patterned after DCTV. As you can see too, he's in his season 2 togs here. So we're getting the more iconic white emblem, and not the original red from the show. If you're a Flash fan, you have to be digging that.
As usual with Icon Heroes' offerings, Flash (and presumably the rest of the line) will be hand-painted and numbered for collectibility. And yes, he comes complete with a certificate of authenticity. The Flash is actually a pretty good size too, clocking in at 7.25″ tall. He should look pretty nice next to your collection of the show's Blu Rays.
Look for him in stores and at online retailers starting this coming June. The Flash will cost you $59.99 USD.