Hitting stores this year, Trypticon is the latest addition to Hasbro's Transformers: Titans Return.
Trypticon returns
If you're a long time fan of Hasbro's Robots in Disguise, then you already know who Trypticon is. A part of the Generation 1, this giant is one of the biggest canonical Transformers of all time. He's so big (in the comics and cartoons) that he actually turns into a city. Well, unless you're talking about the Transformers: Cybertron video games anyway, in those he was a space station. So, kind of an upgrade there.
Unlike his Autobot counterpart (and fellow city-former) Fortress Maximus though, he doesn't convert to a robot form. Nope, Trypticon turns into a monster-sized T-Rex instead, and a mighty impressive looking one at that. And in the new toy, he also can take the shape of a space ship. That might be paying a bit of homage to the aforementioned games.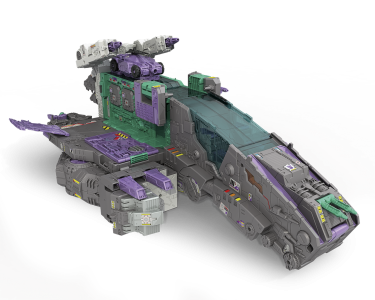 A new Trypticon is highly sought after too. We know that thanks to him winning a fan poll last year. A poll, by the way, that saw him beat out the likes of Omega Supreme (bummer). And he's pretty easily the crown jewel in the crown of Hasbro's upcoming Titans Return lineup.
He'll officially debut at Toy Fair in NYC this weekend, but we've got the sneak peek at him right here. So have a look and mark your calendar, Trypticon will hit stores this Fall, and will run you $149.99 USD.
TRANSFORMERS GENERATIONS TITANS RETURN TRYPTICON Action Figure
(Ages 8 & up/Approx. Retail Price: $149.99/Available: Fall 2017)

The TRANSFORMERS battle explodes into uncharted territory when the TITANS RETURN! To control an ancient race of giant, city-sized warriors—TITANS—the AUTOBOTS and DECEPTICONS must harness the power of TITAN MASTERS, smaller bots that give bigger bots enhanced abilities in battle. The ultimate Decepticon weapon is joining the Titans Return battle! Trypticon will destroy everything and devour everyone in his path. The Titan Class Trypticon figure is the largest figure in the 2017 Titans Return universe and is also the biggest Decepticon figure ever made. The towering T-Rex converts between 3 different modes: dino, spaceship, and city.  When the figure is in city mode, it connects to Titans Return Leader Class figures (each sold separately) to form the giant Nemesis Command. When the figure is in T-Rex mode, it can "eat" Titan Master figures: Trypticon can chomp them down, then you can open his stomach to get them out. Comes with a Deluxe Class Full-Tilt figure and a Titan Master Decepticon Necro figure. Additional Titan Master figures are each sold separately, but with so many to collect, the Titans Return battlefield is a veritable all-you-can-eat bot buffet for Trypticon. Full-Tilt figure attaches to the Trypticon figure's chest. Titan Master figure becomes the head for the Full-Tilt figure and works with all Titans Return Deluxe, Voyager, and Leader Class figures (each sold separately). Also features a storage compartment in the figure's tail.