Big news for those who prefer playing their tabletop games in the online arena, Roll20 now has the D&D Monster Manual.
In the eye of the Beholder
Few RPG's are as iconic as Dungeons and Dragons. And since Roll20 signed the role-playing giant, they've been making the most of it. This latest announcement though, is the icing on the cake.
Over half of Roll20's users are D&D 5th Edition rule players. That's a monster (sorry) number, especially considering that the company now boasts some 2 million members. So there's going to be about 1.4 million RPG fans who are going to be pretty happy to play with the Monster Manual.
But what does the addition of this digital tome mean exactly? Well a hell of a lot actually, and it all sounds pretty sweet. You'll get a digitized version of the Monster Manual to (virtually) thumb through, complete with "beautiful artistic renderings of the monsters". Of course, there'll also be lore aplenty in there, and loads of stats.
That's far from all however. Don't forget that there's an actual game to be played here. And, as such, there's lots that the Monster Manual adds to Roll20.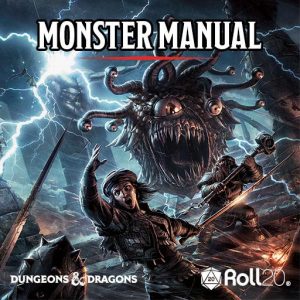 Here's a rundown
In addition, Roll20 DMs and players can use the Compendium tab within the Roll20 tabletop platform to view Monster Manual entries—and even drag & drop monsters into their pre-existing games! The monsters that are added to Roll20 games will automatically place a gorgeous token on the tabletop and create a new Handout in the platform's Journal, where the full biography, lore, and clickable NPC character sheet can be perused. This makes it much easier for a DM to suddenly add a displacer beast to their ongoing campaign, to the possible despair of their adventurers!
The D&D Monster Manual officially hits Roll20 on February 7th, and will run you $49.95 USD.