Busy as usual, toy and collectible company DST has a bunch of cool stuff in stores this week.
Beetlejuice, Beetlejuice…
Back from the pop culture goldmine that is the 1980s, Beetlejuice is featured this week in Diamond Select Toys' offerings. Even cooler is that it's a pint glass, which is pretty fitting for the Ghost With the Most.
Also in stores this week, is a super cool Black Canary PVC figure, a Marvel Select figure of Odin as the Destroyer, and the first series of Mallrats Select figures! As usual, it's a little something for everyone, and all of it is well worth a look.
Scroll on down for the full spread of what's in stores this week.
Beetlejuice Movie Reelware Pint Glass
A Diamond Select Toys release! Troubled by the living? Is death a problem, and not the solution? Unhappy with eternity? Then pour yourself a drink in this movie-inspired pint glass, kick back and call Beetlejuice! This pint glass features the original advertisement that prompted Barbara and Adam Maitland to call the revered bio-exorcist in an attempt to reclaim their home, and kicks off a new line of merchandise based on the classic Tim Burton film Beetlejuice. Packaged in a full-color window box. (Item #AUG162571, SRP: $10.99)
https://diamondselecttoys.com/beetlejuice-reelware-betelgeuse-pint-glass
DC Gallery Justice League Black Canary PVC Figure
A Diamond Select Toys release! Troubled by the living? Is death a problem, and not the solution? Unhappy with eternity? Then pour yourself a drink in this movie-inspired pint glass, kick back and call Beetlejuice! This pint glass features the original advertisement that prompted Barbara and Adam Maitland to call the revered bio-exorcist in an attempt to reclaim their home, and kicks off a new line of merchandise based on the classic Tim Burton film Beetlejuice. Packaged in a full-color window box. (Item #AUG162571, SRP: $10.99)
https://diamondselecttoys.com/beetlejuice-reelware-betelgeuse-pint-glass
DC Gallery Justice League Black Canary PVC Figure
A Diamond Select Toys release! The heroines of the DC Animated Universe are expanding their roster! As seen on Justice League Unlimited, this 9-inch scale PVC figure of the Black Canary depicts Dinah Lance unleashing a sonic scream at her opponent, wearing her classic, comic-inspired leather jacket and tights. Figure is in scale to all Gallery and Femme Fatales PVC figures, and comes packaged in a full-color window box. Sculpted by Varner Studios! (Item #AUG162555, SRP: $45.00)
https://diamondselecttoys.com/dc-gallery-justice-league-black-canary-pvc-figure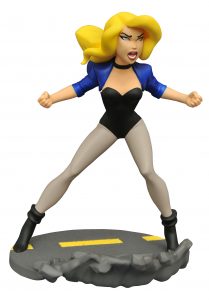 Mallrats Select Action Figures Series 1 Asst.
A Diamond Select Toys release! They're not here to shop, they're not here to work, they're just here! Finally, after 22 years, fully poseable action figures of the cast of Kevin Smith's sophomore(ic) masterpiece Mallratshave arrived! Jay and Brodie are the first two in the series, each with character-specific accessories – sock full of quarters and baseball bat for Jay; chocolate pretzel and giant cookie for Brodie – as well as diorama bases depicting different stores in the mall! Each figure features approximately 16 points of articulation and the actor's likeness. Packaged in display-ready Select packaging, with spine artwork for shelf reference. Sculpted by Patrick Piggott! (Item #JUN162385, SRP: $149.94/case)

Jay Figure (Item #JUN162386, SRP: $24.99)
http://diamondselecttoys.com/mallrats-select-action-figures-series-1-jay-action-figure

Brodie Figure (Item #JUN162387, SRP: $24.99)
http://diamondselecttoys.com/mallrats-select-action-figures-series-1-brodie-action-figure
Marvel Select Odin the Destroyer Action Figure
A Diamond Select Toys Release! Prepare to be destroyed! The next 7-inch-scale Marvel Select action figure is the Destroyer, the massive Asgardian automaton that regularly menaces the Mighty Thor! Measuring approximately 9 inches tall with 16 points of articulation, this spiked powerhouse comes with the powerful Odinsword, as well as an interchangeable head, revealing the one-eyed face of the All-Father, Odin, from the times he has worn the armor in battle! Whether you choose to display him as the Destroyer or as Odin, he's more than a match for your Marvel Select Thor, or Hulk, or even Juggernaut! Packaged in the display-ready Select packaging, with spine artwork for shelf reference. Sculpted by Jean St. Jean!
(Item #JUL162624, SRP: $24.99)
http://www.diamondselecttoys.com/marvel-select-odin-the-destroyer-action-figure