Now, you kind of have to take this with a grain of salt, but it does look like those worried about the Nintendo Switch's power level have a right to be.
New console, antiquated power?
Coming to market in March of 2017, there's quite a bit of enthusiasm around the Nintendo Switch. Some of it is very much warranted too. After all, Nintendo seems to have great third-party support this time around, and the home/away nature of the console could translate to a ton of play time for gamers on the go.
Heck, I'm excited about it for that very reason. Playing at home, then seamlessly continuing that game in a cab, on the train, and everywhere else? Yes please.
There were rumors though. Rumors have been rampant that the level of power that the new Nintendo console will boast… well that it's nothing to actually boast about. Those nagging comments by the way, said that the Switch would fall somewhere in between this gen and the last in terms of overall power. And it's looking like that's going to be accurate.
Website VentureBeat has cited a pair of sources, saying that the Switch will make use of the last-gen chip from Nvidia; the Maxwell Tegra. This isn't disastrous at any level, but it's nonetheless something of a disappointment since the hardware maker has since intro'd the Pascal.
VentureBeat elaborates on why Nintendo chose the older chip, adding that going with the Pascal would have added a good deal of time onto the development of the Switch. And that would have meant getting to market later, something that Nintendo apparently wasn't keen on.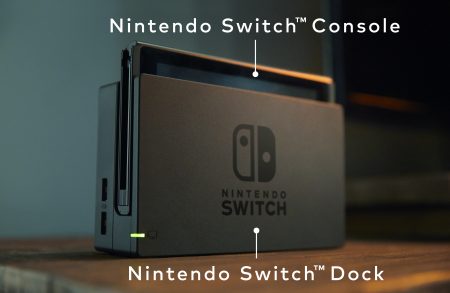 The dock makes a difference
Basically, this all amounts to the Switch not having the graphical oomph of a PS4, or an Xbox One. It shouldn't be on par with the PS3/Xbox 360 generation though, and I think that was an actual concern for many. Docking the Switch too, will allegedly give the console an extra boost. You'll get higher-res at home, and lower on the road, which isn't a bad trade-off at all.
And all in all, you kind of have to admit that things are shaping up pretty much as expected for the Switch. Historically, everything is right in line with what Nintendo has done with their consoles since the Wii. They've got a gimmick in place and are coming in less powerful than, but ahead of, the competition.
Will it have a negative effect? It's really kind of hard to say. The tactic didn't with the Wii, but it sure did with the Wii U. The Wii successor struggled in its early days and never recovered.
I will add though, that the Switch will have something never before done, with it's split personality. And that's a truly unique and fun feature, that I think gamers will definitely be into. And then there's the fact that it'll also have all the Nintendo franchises that you'd expect. That's never something to be discounted.