Stalinverse isn't the only big Valiant Comics event coming in 2017. Ninjak #23 kicks off a supernatural epic starring none other than Master Darque.
The Seven Blades of Master Darque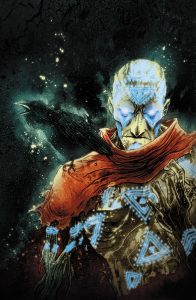 Originally born in pages of Shadowman, the demonic necromancer known as Master Darque has become a much larger baddie. He's kind of a Valiant U-wide villain at this point, having been involved in massive events like Book of Death. And here we are, with another return for him from the Deadside.
Only this time, it's Ninjak and Roku who'll be taking him on. Well, them and Darque. Can't forget that. Wait… what?!
Master Darque – the sadistic lord of death and resurrection – wrests to be free once again, but first he must fight for his life. Darque is a target, his powers are weak, and his enemies know it. Now, Darque's own former pupil and Ninjak's ruthless arch-nemesis – the lethal assassin known as Roku – has gathered the Shadow Seven together again for the sole purpose of putting Darque down for good. And the only thing holding their uneasy alliance together is a mysterious benefactor from the shadows… Someone who also goes by the name Darque…
So who's this new Darque? Well the honest answer is that we have no clue. It could be an already existing character shifting identities, or someone totally new. Perhaps it's a usurper, looking to dethrone Darque and claim his power for themselves. We'll see.  For now, this is all we've got to go on.
A long time coming
Ninjak and Darque facing off might seem odd, but according to Valiant it's all been in the works since the start. And from the sound of this quote from Warren Simons, there's some big stuff on the way.
"I'm incredibly excited about the revelations we have in store for THE SEVEN BLADES OF MASTER DARQUE. This is a story we've been building towards right from Ninjak's first issue," said Valiant Editor in Chief Warren Simons. "From the truth of Ninjak's training and origin to the final revelation about the Shadow Seven's secret final members, Matt and Marc are about to unleash some major, game-changing ramifications that are going to leave jaws dropped."
One for fans of both Ninjak and Shadowman's cover of the Valiant U, The Seven Blades of Master Darque hits in Ninjak #23. Look for it on the racks this January.