We've seen Quinlan as a boy and a gladiator, now follow Quinlan as a centurion in The Strain: Mister Quinlan #3.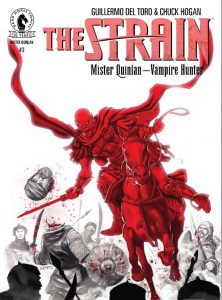 If you missed our review of #1, you can find that here.
If you missed our review of #2, you can find that here.
Mister Quinlan Becomes
For five years, Quinlan has fought as a centurion. Three years as a gladiator before that. Quinlan knows more about fighting then most others could ever imagine. He is glad to have a good reason to fight, much more than being pitted against another person, for the sake of entertainment. He is fighting for freedom. As a free man.
We've learned a bit more regarding the Ancients and the Master. And while the Ancients are vulnerable to the sun, they do have an agent who walks among man in their stead. Quinlan is given a broad outline of what the Ancients have overseen. And a puzzling statement regarding his future. Later that day, after some insubordination by one of his soldiers, Quinlan's nature is revealed, and forces the Ancient's agent to stand beside him, against their own men.
"As for the rest, my friend… I plan to test the limits of your mighty sword arm." – Ceasar to Quinlan
Ceasar commands Quintus and his friend Decimus to take a small brigade against outrageous odds. We learn that even among his warriors, there are those that are working for the Master. And here is when the story really seems like our hero will have his hands full.
Bringing you Quinlan
Lapham's writing makes Quinlan seem amazing. While you would not want to be on his wrong side, he would be an incredible ally to have. Trained in several forms of battle, and with the heightened abilities gifted him from the Master, makes Quinlan almost unstoppable.
It's not too late, you can still pick up some of the earlier copies of The Strain: Mister Quinlan – Vampire Hunter at your local bookstore, comic shop, or even online for $3.99 US. Issue #3 arrives in stores and online on November 9, 2016.
The Strain: Mister Quinlan #3
Writer: David Lapham
Penciller: Edgar Salazar
Inker: Keith Champagne
Colorist: Dan Jackson
Mister Quinlan's Trials
Plot - 95%
Writing - 91%
Art - 94%
Mister Quinlan's trials in continue in Ancient Rome and beyond. He is a free man, though there are hintings that there is more going on. The Master seems always nearby. Check out The Strain: Mister Quinlan #4 next month as we learn more.