Looks like this upcoming X-Men/Inhumans event is going to be a giant one. Both Jean Grey and Weapon X are joining ResurrXion. Update – make that three more. Or four. Or whatever.
ResurrXion Continues
Well color me surprised. I was half expecting an Inhumans book to be announced after we detailed Iceman's solo title a few days ago. That comic, like these new announcements, will be a part of ResurreXion, a big Marvel event coming in 2017.
We still really don't know what ResurreXion is, but we know one thing- it's apparently very X-Men-centric. With both X and Inhuman logos in the logo for it, that wasn't a foregone conclusion. But now with three mutant books hitting sometime alongside it, it seems to be the case.
That's freaking awesome news if you're an X-Men fan… for several reasons. First, it might mean that the X-Men are due for a real renaissance in the comic kingdom. Maybe, hopefully, a return to the level of stardom that the team shared in past eras.
And if that's true, then it might (stress might) mean that Marvel and Fox are starting to play nice. Yes, I know that's just a pipe dream most likely, but I can hope can't I? After all, it was widely rumored (pretty solidly too) that Marvel was so unhappy with the film arrangement that they had with Fox that they were moving to all but kill off the X-brand.
Clearly that's not happening, so… Again, not very likely, but I can dream.
So what are these books then?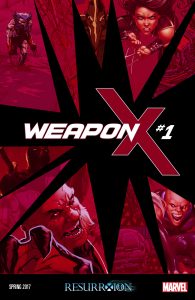 Now that we've got that out of the way, just what are these books that've been announced? Are they ongoing series' or something else? One-shots perhaps? There's been no detail at all given out by Marvel, so who knows right now.
I'd love to see ongoings out of all three (Iceman, Jean Grey, and Weapon X), but I'm starting to think that they'll be either limited series' or one-shots. If the X-universe is going to start getting more play, and go back to being right up there with the Avengers, then a bunch of one-shot books would make sense.
It's kind of an easy way to get fans reacquainted with these characters. That'd be especially good for lapsed fans, who might not even realize that the modern version of Jean Grey is a teenager, ripped from the past along with the rest of the original X-Men.
We shall see. Stay tuned X-fans, there's plenty more to come on this.
Update- So it looks like Marvel is pulling Generation X out of mothballs too! The series, not seen in years, starred a mostly original cast of characters, though that's not all that we see on this cover.
If you click on the header, you'll see a hodgepodge of young X-Men teams pictured here. I'm going to guess that the new Gen X will be a kind of junior X-Men, in the vein of New Mutants.
ResurrXion just keeps getting more and more interesting.
Update 2- Let's say that Marvel is looking to have a lot of tie-ins for ResurrXion shall we? Today (October 21st) they've announced a fifth book with Cable! The mutant soldier will get a title as well this coming Spring, and its cover mimics the same design that we've been seeing thus far with the other books in the line.
Also the same is that there's no telling if this is meant to be a one-shot, mini-series, or ongoing. Time will tell though, and we'll be printing any further covers that Marvel slips out onto the net right here in a special gallery below. Stay tuned true believers.