2017's RessurXion might mean that the X-Men will be coming back in force in the Marvel U.
RessurXion
I feel like a broken record today, but – don't get too excited yet. Thing is, if you're an X-Men fan there's a lot that you can read into this massive tease that Marvel has released today. But maybe try not to. Just try to keep in mind what's been happening with Marvel's merry mutants as of late, is what I'm saying.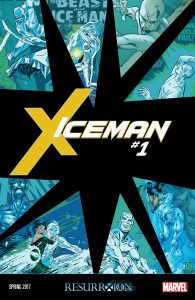 Heck, it's almost seemed like they were being phased out of the Marvel U in general over the last few years. Wolverine (the 'real' one) is dead after all, arguably the most popular X-Man. And it was even revealed that the Inhumans' Terrigen mists were wiping mutants out. So kind of dark times if you're a fan. It's also worth noting that the Inhumans themselves have been getting tons more time in Marvel's comics. They've been on the receiving end of a bigger push than I can ever remember them getting.
Now though, in the middle of the Death of X crossover, it looks like there's an atomic-powered light at the end of the tunnel.
After DoX will come RessurXion. What does that mean? Well, I honestly have no idea, but thanks to the name of the event, and the fact that the logo has both X-Men and Inhumans logos built into it, there's a lot to hope for. Personally, I'm thinking that something is going to happen that effectively merges the two disparate groups into one. Although I could easily be wrong, that's the vibe I'm getting.
Whatever happens though, it sure is starting to look like there's an X-Men revival on the way. Case in point, Iceman #1.
Ice, Ice baby
Whether or not this'll be an ongoing book or a mini-series is still unknown. Marvel has released the cover image for Iceman #1, coming in 2017, so we know there's something in the cards for the X-Men's coolest member. This definitely looks like the older 'original' Bobby Drake too, and not the time-displaced younger one.
With the RessurXion logo at the bottom, the book definitely looks to be part of a larger initiative though. And with the 'X' emblazoned across it, it looks like there might be a series of these X-Men focused books on the way. Well, I can hope anyway. I'm a huge X fan, so there's nothing I'd like to see less than a full-on revival of the brand, and a return to their roots. I don't even really care if Marvel has to retcon a whole mess of stuff to get some original team members out of mothballs. Really, just do what you have to guys.
Anyway, all this is supposing and wishful thinking for now. As of today, all we've got to go on is a single image. For now though, that's probably enough.