Tubular! Are you ready for some gnarly Call of Duty Zombies mayhem set in the radical 1980s?
Ever watch a zombie movie from the 80s? They have their own kind of flavor (no pun intended). Then again, with the trappings of the decade being what they are, it'd be weird if they didn't. And although Call of Duty: Infinite Warfare is taking CoD to the final frontier, that's just where the zombies mode for the upcoming shooter will be going.
"Call of Duty and zombies in particular has such an incredible history with passionate fans, which inspired us to take all the co-op action that has made the series so great and fuse it with one of our favorite decades in pop culture: the '80s," said Brian Bright, Project Director at Infinity Ward. "Zombies in Spaceland is an all-new zombies experience where day-glow meets fright nights. It's accessible for new players, but also has a deep layer of progression, brimming with easter eggs and various game features that will be a blast for hardcore zombies fans. We can't wait for fans to go hands-on this fall."
Zombies in Spaceland… sounds about right for an 80s-themed horror movie. Not that this is a movie, but you get my drift. Honestly though, with a voice cast like the one that this expansion has, it probably could be.
So who's in it? Well, providing both voice and likeness will be Paul Reubens (Pee-Wee himself) in the role of the main villain. And if he's not enough star-power for you, Seth Green, Ike Barinholtz, Jay Pharoah, and Sasheer Zamata.
Oh yeah, there's also this enigmatic DJ roaming around the theme park setting. You might remember the actor playing him since it's David Hasselhoff. Yep. And to go along with that cast and the usual Call of Duty Zombies action, Activision says that the soundtrack will be likewise rockin'.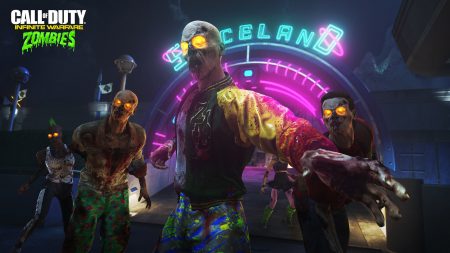 Lots to like about this one. As to how you'll get it, that's easy – pre-order before Call f Duty: Infinite Warfare hits consoles and the PC on November 4th. If you pre-order a copy of Call of Duty: Infinite Warfare (any edition), you'll get the Zombies in Spaceland expansion for free. The pack includes more than just the map too, as there'll be a little assortment of extras in this virtual box.
Also included:
a unique zombies weapon camo
zombies weapon reticle
animated zombies calling card
Fate & Fortune card pack