High fantasy was the theme in the 4 Horsemen's corner of Comic Con, with an impressive showing for their Mythic Legions line.
Behold, the Mythic Legions
If you don't know the Mythic Legions, you get a pass. The series, which is rolling into its third excellent wave has no license, so it's a little different than much of what's out there on the shelves, and in the collector's market. Alright, so it's completely different.
Years ago, there wasn't really anything all that unusual about a toy line not having a license. Sure they might not have been the most popular toys out there, but they were there. Today though, almost everything on the shelves of your local big box or TRU is from Marvel, DC, Star Wars or the like. Big licenses equal dough apparently.
As a company, the 4 Horsemen have made a name crafting awesome toys (and statues!) from some of those 'big licenses'. They worked on the incredible DC universe Classics line of course, and most recently re-defined Masters of the Universe.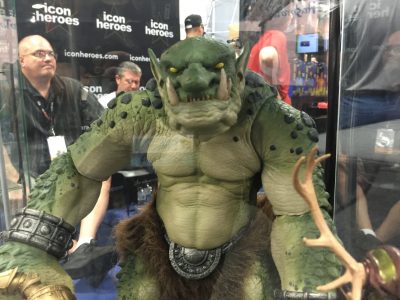 No License, no problem
Mythic Legions though, that's their own baby. No big license, no movie or comic book to be attached to – just awesome sculpts. These characters are imaginative beyond belief, but at the same time recall classic themes from medieval and barbarian lore. Featuring skeletons, knights, trolls and more Mythic Legions should almost instantly attract pretty much every sword and sorcery fan.
At Comic Con a few weeks back, the Horsemen had their latest waves on display. They were also showing off all the figures that are already available, just in case you need some more prodding to start collecting 'em.
If that's something that you're looking to do, then you'll find the figures on Store Horsemen, the 4 Horsemen's line shop, and at retailers like BigBadToyStore.com.