Another incredibly impressive showing for Hasbro at this past SDCC came from none other than Star Wars Black.
6″ rules for Star Wars Black Series
Hasbro's booth at Comic Con was all about the six inch scale Black figures, when it came to Star Wars. Not that that's not to be expected with the direction things have been heading.
Remember that when the new 3.75″ figures debuted along with last year's Episode 7, they were relegated to Walmart exclusive status. While those Walmart waves were pretty neat, what mass retail got was somewhat less than impressive.
I'm talking about the five points of articulation figures of course. Though I don't want to dwell on those, because what we have here is a heck of a lot better. Yes, this lineup is all six-inch, but they're plenty awesome too.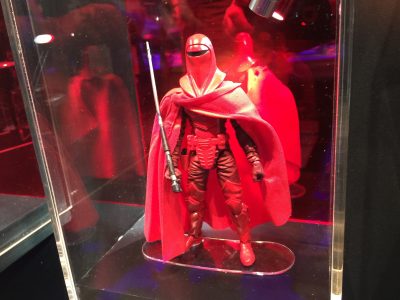 Old and new Star Wars, and then some
Toys from both the original trilogy and the new were on hand for the show. And there were some impressive figures based on Rebels too. Kanan,  Hera, and Sabine all made the jump to the more realistic Black Series, and all three looked fantastic.
By far though, the coolest figures there were of the original film characters. Lando might be my favorite out of all of them, but the Imperial Guard, AT-AT driver, and pretty much all the rest were downright awesome as well.
What of 3.75″ though?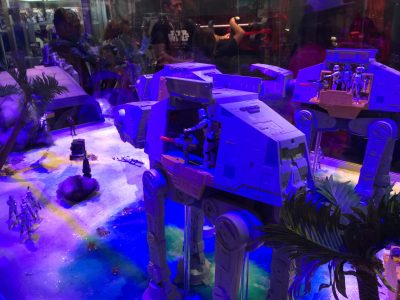 We've been talking all 6″ here. Obviously though, the smaller-scaled, limited-posability line will roll on since it's been a hit. I may not like it, but there are plenty of fans who do, and that's not even mentioning the kid factor. So you can definitely expect to see Rogue One figures in this style, and we saw a glimpse of what's to come at the Con.
Stormtroopers and some assorted figures from the film were a part of a massive diorama. The coolest part of said display? The AT-AT's.
Noticeably a bit different than the classic design of the walkers that assaulted Hoth, these new AT-AT's were pretty cool regardless. They're not the scale of that special edition Walker that came out a few years back of course, but they're neat anyway. And it's just cool to see Imperial walkers back on the shelves again.
So there you have it, a little rundown on what was what with Star Wars figures at the Con. As usual, you can scroll on down for the full visual story and to check out the displays.