The Fox booth at SDCC is gonna be jumping, with big set pieces for you to check out and some awesome exclusive items.
Well this is Comic Con, so if there weren't a bunch of awesome monster-booths, it'd be weird. Thanks to Fox, we know for certain that won't be the case.
Aliens, X-Men: Apocalypse, Deadpool, and more
It's the 30th anniversary of Aliens this year, and the company is planning a massive panel with all the stars from the film. Sigourney Weaver will take part, as will Bill Paxton, Michael Biehn, and even Jim Cameron.
ALIENS: 30TH ANNIVERSARY 

Celebrate the 30th Anniversary of ALIENS with a full cast panel including Sigourney Weaver, James Cameron, Bill Paxton, Michael Biehn, Paul Reiser, Lance Henriksen, Carrie Henn and Gale Ann Hurd on Saturday, July 23 at 3:15pm in Hall H. A fan screening with an intro from James Cameron will follow the panel on Saturday evening at 7:00pm at The UA Horton Plaza Theatre.

Pre-orders for the ALIENS 30th ANNIVERSARY Blu-ray includes a Limited Edition lithograph of "Ripley vs. Queen."
Not a panel, the X-Men experience set up for the show sounds like it will be pretty spectacular nonetheless. Fox is setting up the tomb of Apocalypse, and you get to go in.
After a morning RSVP that you'll have to sign up for, you'll get to enter a real-world 'tomb' setting. From there, you'll take a VR trip through Apocalypse's not-so final resting place from the film. Oh, also neat – if you pre-order the movie on home video right then and there, you'll get a special Dazzler album cover.
 "The X-Men Tomb of Apocalypse X-perience (Booth 3529) is unlike any activation ever featured on the Comic-Con show floor.  The space is built out as a 3-D tomb structure, loaded with interactive games, special effects and VR elements featuring extraordinary design detail reminiscent of a theme-park attraction. Fans will enter the tomb and solve a series of complex challenges to defeat the most powerful mutant ever, Apocalypse.

The X-perience will be open daily for fans to RSVP their "Tomb Time" each morning to embark on the challenge of a lifetime.

X-MEN APOCALYPSE, available on Digital HD Sept. 9 and on Blu-ray™, 4K Ultra HD and DVD on Oct. 4, will be available for pre-order at the Fox Booth. Pre-orders will receive an exclusive "Dazzler" album cover with purchase while supplies last.
Signings, photo-ops, and awesome goodies
Past that stuff, there's also a cool photo op for American Horror story fans, and an impressive selection of stuff that you can buy and take home. And yes, that selection of stuff includes Deadpool, Archer, Family Guy, and more.
Here's how the wallet-draining breaks down: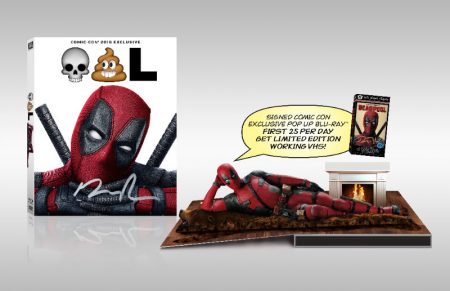 DEADPOOL

Want even more Deadpool? Come meet Stan Lee, director Tim Miller and Rob Liefeld, co-creator of Deadpool, at a special appearance signing at the Fox Booth on July 23 from 10:30-11:15am.

Limited Quantity: SDCC Exclusive Collectible DEADPOOL Blu-rays signed by God's Perfect Idiot, Ryan Reynolds, will be available for purchase.

First 25 purchases each day will receive a Limited Edition DEADPOOL on VHS signed by Reynolds.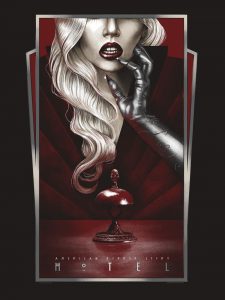 AMERICAN HORROR STORY: HOTEL 

The "American Horror Story: Hotel" Photo Experience: Go behind the lobby desk of the Hotel Cortez for an exclusive photo opportunity at Con-X (Embarcadero Marina Park North.)
FOX BOX

Archer SDCC Exclusive Fan Box

Includes the first six seasons on Blu-ray
Comic-Con exclusive poster "Archer – A Guide to Good Parenting"
Beer Coozy
Shot Glass
Exclusive Iconic Quote Stickers
Seven Collectible Coasters – Hangover Cures from Archer, Krieger, Pam, Cyril, Cheryl, Lana and Malory
Family Guy SDCC Exclusive Fan Box

Includes Seasons 12 and 13 on DVD
Comic-Con Exclusive "Peternormal Activity" T-Shirt
Five Collectible Coasters featuring artwork from "Road to India"
KUNG FU PANDA 3

A family favorite franchise, purchases of KUNG FU PANDA 3 will include a Limited Edition SDCC-exclusive lithograph of the secret Panda Village showcased in the film.
Signings galore
And finally, there's a whole bunch of signings on the schedule too. Fans of almost every big time Fox property that you can think of will have opportunities to get some autographs. All of these will take place at the Fox booth too, so it's going to be absolutely loaded with stuff to do and see.
Check it out at booth #4229 and booth #3529 on the show floor, starting tonight – Preview Night.
FOX SIGNINGS

Before signings, swap your face with branded billboards as part of the Snapchat Face Swap at the Fox TV booth using #FoxSwap. Billboards will change daily and further exclusive Face Swap activations will occur with cosplay talent from "The Strain," "Scream Queens," "AHS: Hotel," "X-Files," "The Last Man on Earth," "Family Guy," and "Bob's Burgers."